'Moana' Trailer: Disney's Next Animated Adventure Sets Sail With Dwayne Johnson & Auli'i Cravalho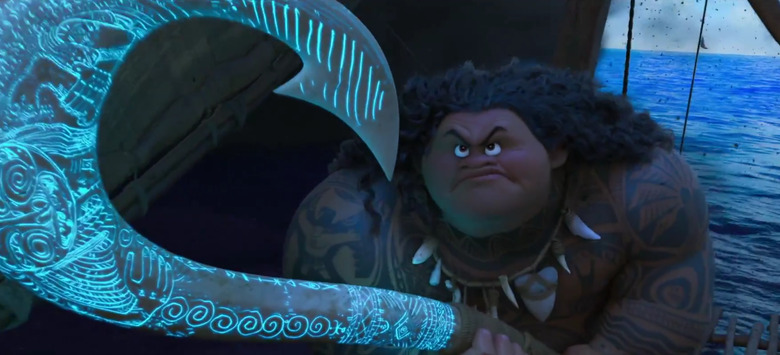 Disney's next new animated adventure is preparing to set sail, and to help us all get ready for the journey they've released a brand-new full-length trailer. Moana stars Auli'i Cravalho as a young Polynesian princess who sets out on a daring voyage to save her people. Also along for the ride are her rooster Heihei (Alan Tudyk) and the demigod Maui (Dwayne Johnson). Watch the Moana trailer below. 
Although Moana is a fantastical adventure, Disney Animation took great pains to ensure the film would depict the South Pacific authentically and respectfully. That meant forming an "Oceanic Story Trust" consisting of scientists, artists, craftsmen, and other people from all walks of life to help answer questions about the peoples and cultures of the region, and taking pains to ensure the clothing and props were as close to realistic as they could get for the area and the time period.
I won't pretend to know enough about Polynesian culture to say whether Moana looks authentic, but the general attention to detail looks like it pays off. Moana is flat-out gorgeous, and as an adventure it looks enthralling.
Moana arrives in theaters November 23. The film also features the voices of Jemaine Clement, Rachel House, Temuera Morrison, and Nicole Scherzinger, and music by Lin-Manuel Miranda, Mark Mancina, and Opetaia Foa'i. Ron Clements and John Musker directed.
Three thousand years ago, the greatest sailors in the world voyaged across the vast Pacific, discovering the many islands of Oceania. But then, for a millennium, their voyages stopped – and no one knows exactly why. From Walt Disney Animation Studios comes "Moana," a sweeping, CG-animated feature film about an adventurous teenager who sails out on a daring mission to save her people. During her journey, Moana (voice of Auli'i Cravalho) meets the mighty demigod Maui (voice of Dwayne Johnson), who guides her in her quest to become a master wayfinder. Together, they sail across the open ocean on an action-packed voyage, encountering enormous monsters and impossible odds, and along the way, Moana fulfills the ancient quest of her ancestors and discovers the one thing she's always sought: her own identity. Directed by the renowned filmmaking team of Ron Clements and John Musker ("The Little Mermaid," "Aladdin," "The Princess & the Frog"), produced by Osnat Shurer ("Lifted," "One Man Band"), and featuring music by Lin-Manuel Miranda, Mark Mancina and Opetaia Foa'i, "Moana" sails into U.S. theaters on Nov. 23, 2016.