'Sausage Party' Director To Helm 'The Toxic Avenger' Remake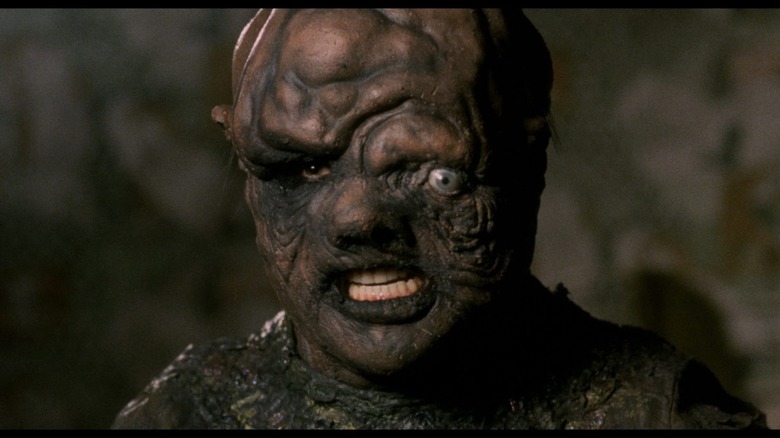 The co-director of Sausage Party has signed on to reboot The Toxic Avenger. No, I'm not talking about Seth Rogen or Evan Goldberg, but Conrad Vernon, who co-directed the R-rated animated film alongside Greg Tiernan (its a common misconception that Goldberg and Rogen directed the film, as they co-wrote the screenplay and produced).
Conrad Vernon has been working in the animation industry for 25 years. He started as an uncredited character designer on Cool World, and in recent years worked his way up from Storyboard Artist at Dreamworks to co-directing Shrek 2, Monsters vs. Aliens and Madagascar 3. He also voices a bunch of the characters in those films, including Shrek's beloved Gingerbread Man. The Toxic Avenger will be his first attempt at a live-action feature film.
Producer Richard Saperstein (Mother's Day) says that Vernon is "a subversive comedic genius," the "perfect director to bring this iconoclastic franchise back to life." Vernon says that the original is his "favorite cult-classic" from his "high school years" and that being able to reimagine it "is an honor."
Variety broke the story, revealing that Archer writers Mike Arnold and Chris Poole have come on board to rewrite the screenplay by Steve Pink and D.C. Mitchell. The Hot Tub Time Machine/Accepted filmmaker had signed on to develop and direct the movie in 2013 with Arnold Schwarzenegger playing "the Exterminator," a former black ops agent who trains Toxie to use his powers for good. We had even heard rumors that John Travolta was to take on the title role.
Lloyd Kaufman's original 1984 cult classic told the story of Melvin, a weakling mop boy who's humiliated by a couple of exercise freaks and inadvertently finds himself ending up in a vat of toxic waste. Thus he becomes the Toxic Avenger, a muscular, deformed local superhero who always gets the ladies. The original film was the kind of charming low budget schlock that's very existence is almost a miracle. That is part of the reason why I love the series, and in larger part, Troma.
We had heard that producers Akiva Goldsman, Richard Saperstein (Mother's Day remake) and Charlie Corwin (Joel Schumacher's Twelve) were approaching the remake as a "family friendly PG-13 action comedy akin to The Mask." That approach seems like a mistake to me in a post-Deadpool world. And hiring the guy who just directed an R-rated animated movie might indicate a change in approach. But who knows if the plan has changed or not. It's unknown if Arnold Schwarzenegger is still attached to the film project — I'd think not.
You can revisit the trailer for the 1984 film embedded below: