'Nocturnal Animals' Posters, Photos And Early Buzz: 'A Single Man' Director's Romantic Crime Thriller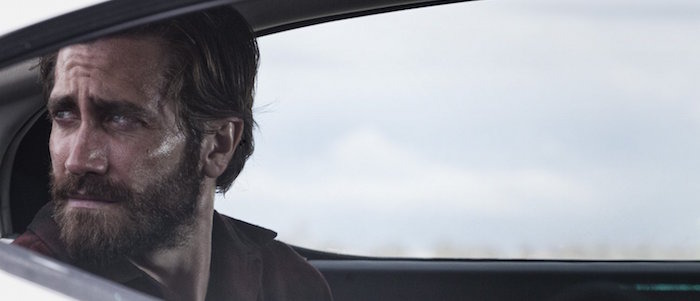 Fashion extraordinaire Tom Ford's second feature film is finally coming out. Ford made his directorial debut six years ago with A Single Man, a beautiful and often painful film about love and loss, and now he's back with a very different type of movie. His latest, Nocturnal Animals, sounds like a real trip, almost like two films in one that, according to critics, calls to mind the works of Douglas Sirk, Alfred Hitchcock, and Sam Peckinpah. Those are some lofty comparisons. Based on the early reviews, though, Tom Ford earns them.
Below, check out some posters, photos, and early buzz for Nocturnal Animals.
Nocturnal Animals stars Amy Adams, Jake Gyllenhaal, Michael Shannon, Armie Hammer, and Aaron Taylor-Johnson. Adams plays an art gallery owner disturbed by her ex-husband's (Gyllenhaal) latest novel. His new story is an unnerving thriller that she interprets as a threat of some kind. The story she pictures in her head while reading the manuscript is a gruesome one that features Gyllenhaal (playing the ex-husband's protagonist), Isla Fischer, Taylor-Johnson, and, playing a local sheriff, Michael Shannon. Based on Austin Wright's novel "Tony and Susan," Nocturnal Animals shows two stories that, from the sound of it, come together beautifully and hauntingly.
Nocturnal Animals Photos
Focus Features has released a few new Nocturnal Animals photos. I'm looking forward to getting the context for the photo on the left, as I'm sure you all are now, too:
Nocturnal Animals Posters
Focus also put out a few bold, unsettling character posters:
Nocturnal Animals Early Buzz
Ford's film was greeted with high-praise at the Venice Film Festival. A few critics weren't taken with his romantic crime thriller, but for the most part, the early buzz for Nocturnal Animals is more than favorable:
With everything going on, Nocturnal Animals is the sort of narrative and tonal minefield that a lesser director could easily have gotten lost in. Ford allows us to consider and cherish each unique thread and wonder just how it could all possibly come together. Each place has its own vibe, almost its own genre, and it's a credit to Ford, cinematographer Seamus McGarvey, and the entire production team that it works at all. This is the output of a great creative mind, testing the limits of this fanciful, wonderful tool he's suddenly found at his disposal.
From its opening titles, a seeming riff on a James Bond credits sequence in which naked, overweight-to-obese ladies dance in slow motion wearing nothing but majorette-style accessories while glitter flies through the air and Abel Korzeniowski's shamelessly romance-and-intrigue-based score swirls and swoops deliriously, Tom Ford's "Nocturnal Animals" is a feast for the eyes and a fun-size Mars Bar for the brain. It's also highly enjoyable, when it's not trying to be serious and make heavy points about the interrelation of art and life.
As shot by the gifted cinematographer Seamus McGarvey, Nocturnal Animals is beautiful—or at least arresting—every minute, and it sure isn't boring. But it's unclear exactly what Ford is trying to say, though it's clear he's trying hard to say something. And that's the most frustrating thing about this picture: There seems to be some nuance here—something that is possibly very meaningful to Ford—that just can't break through the movie's glassy surface.
The performances here are consistently superb, from Adams and Gyllenhaal (playing two very different roles) to Michael Shannon (as a Texas lawman), Laura Linney (getting an unforgettable scene as Susan's mother, a monstrous Manhattan society matron) and Karl Glusman ("Love," "The Neon Demon") as one of the kidnappers. The real standout is Taylor-Johnson, so effectively creepy as the ringleader of the novel's miscreants. He's been an effective enough superhero in "Avengers: Age of Ultron" and the "Kick-Ass" films — and thoroughly vapid in "Godzilla" — but his unsettlingly charismatic turn here heralds a career turning point.
David Lynch meets Alfred Hitchcock meets Douglas Sirk in Nocturnal Animals, a sumptuously entertaining noir melodrama laced with vicious crime and psychological suspense, which more than delivers on the promise of A Single Man, writer-director Tom Ford's first foray behind the camera seven years ago. Confidently dovetailing three strands that depict present and past reality, as well as a dark fictional detour that functions as a blunt real-life rebuke, the movie once again demonstrates that Ford is both an intoxicating sensualist and an accomplished storyteller, with as fine an eye for character detail as he has for color and composition.
Nocturnal Animals found a spot on our Fall preview, and for good reason. Ford's thriller sounds every bit as stylish as his debut, and that's a part of the reasony why Nocturnal Animals is so promising: Who doesn't want to see a thriller from Tom Ford's perspective? We see plenty of thrillers every year, but rarely from a director with his sensibility.
Nocturnal Animals opens in limited release November 18th before going nationwide on December 9th.