Star Wars Go Rogue Chapter 4 Released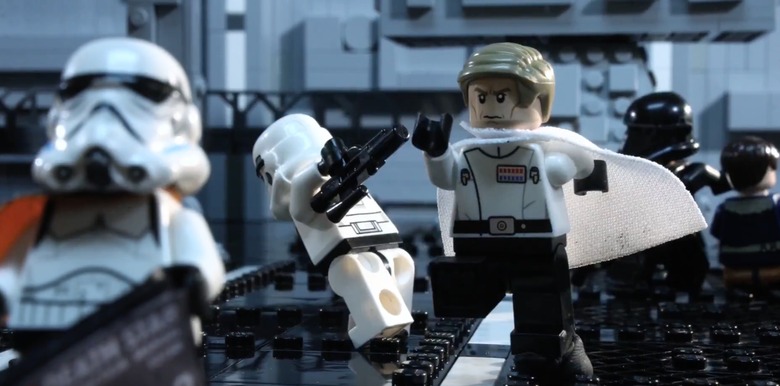 Disney and Hasbro have released the fourth and final chapter from the #GoRogue series of stop-motion shorts created by Star Wars super fans to showcase the new Rogue One: A Star Wars Story toys. Head on over to our previous coverage to learn more about the Go Rogue series, but the basic gist is that the short films feature several new figures and vehicles from Hasbro's Rogue One: A Star Wars Story toy lineup. Chapter 4 was animated completely using LEGO. Watch all four chapters of Star Wars Go Rogue right now after the jump.
Star Wars Go Rogue Chapter 1
Official Synopsis:
The Empire has misplaced the building instructions to the Death Star. Jyn Erso has followed an Imperial search team to the markets of Jedha hoping to recover the instructions first.
Star Wars Go Rogue Chapter 2
Official Synopsis:
With increasing pressure from Director Krennic, Jyn must join forces with the Rebels on Jedha to take on enemies of all shapes and sizes. Will they escape Jedha with the Empire's building instructions? Or will Krennic's Death Star be back on plan?
I love that Director Krennic is a Funko Pop with a huge head while most of the rest of the characters are played by traditional action figures.
But watching this short, I wonder how much of this storyline is a parody of what we'll see on screen later this year. Are these commercials shorts spoiling plot points for the fans? Disney has been very protective of Star Wars storylines in the past, and we know these shorts were created by super fans, so I would think they are just riffing off the bigger ideas from the plot synopsis.
Star Wars Go Rogue Chapter 3
Official Synopsis:
In Chapter 3, the Rebels seek the second instruction book on rain-soaked Eadu, but the Empire has beaten them to the prize. Will they be able to outsmart the scheming Director Krennic to escape with the instructions and their lives?
And Hasbro wants you to know that "this video uses special effects" and that "the toys cannot move or talk on their own."
Star Wars Go Rogue Chapter 4
Official Synopsis:
In the exciting conclusion, the Rebels must rely on their wits, courage and building skills to rescue one of their own from Director Krennic and escape with the LEGO building instructions. The fate of the Galaxy hangs in the balance.