Johnny Depp Will Investigate The Murders Of Biggie And Tupac In 'Labyrinth'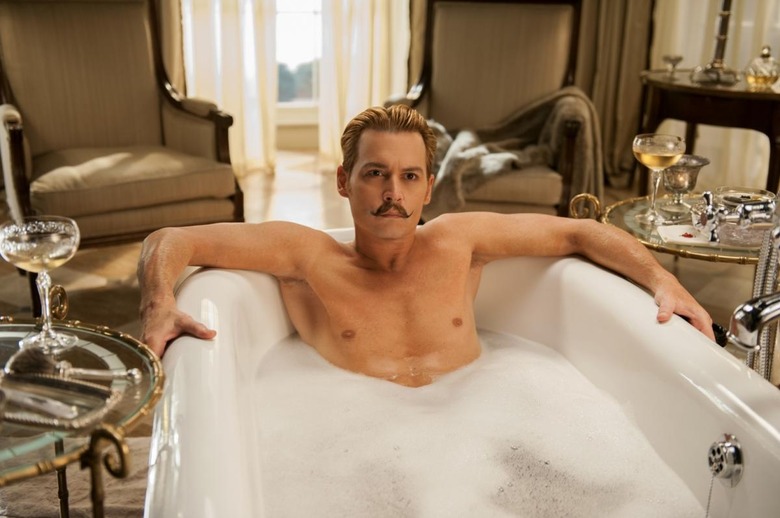 Johnny Depp's career has been in a bit of rut over the past couple of years. The actor's now ex-wife Amber Heard recently came forward with abuse allegations, which followed a string of box-office and critical disappointments. Some were hopeful Black Mass would be a comeback of sorts for Depp, a return to the real world for an actor who has a history of playing characters like, let's say, Mortdecai and The Mad Hatter. Black Mass was another disappointment starring the actor, but he's lined up another biopic to headline. In Labyrinth, Depp will play the L.A. Detective who investigated the murders of rappers Tupac Shakur and Biggie Smalls.
Below, learn more about the new Johnny Depp project.
According to Screen Daily, Depp will star in Brad Furman's (The Infiltrator) film as Russell Poole. Poole looked into the unsolved murders of Tupac and Biggie in the late 1990s. The detective mostly ran into dead ends, but he exposed corruption in the Los Angeles Police Department; he also theorized Suge Knight had a hand in the killings.
Furman's film is based on Randall Sullivan's "LAbryinth." Here's the book's synopsis:
Acclaimed journalist Randall Sullivan follows Russell Poole, a highly decorated LAPD detective who in 1997 was called to investigate a controversial cop-on-cop shooting, eventually to discover that the officer killed was tied to Marion "Suge" Knight's notorious gangsta rap label, Death Row Records. During his investigation, Poole came to realize that a growing cadre of black officers were allied not only with Death Row, but with the murderous Bloods street gang. And incredibly, Poole began to uncover evidence that at least some of these "gangsta cops" may have been involved in the murders of rap superstars Notorious B.I.G. and Tupac Shakur. Igniting a firestorm of controversy in the music industry and the Los Angeles media, the hardcover publication of LAbyrinth helped to prompt two lawsuits against the LAPD (one brought by the widow and mother of Notorious B.I.G., the other brought by Poole himself) that may finally bring this story completely out of the shadows.
Screen Daily writes Good Films will introduce the project to potential buyers at the ongoing Toronto International Film Festival. With Depp's involvement, a sale is expected. Producer Miriam Segal and Furman are hoping to begin production on Labyrinth later this year. The two collaborated on The Infiltrator, a solid drama/thriller that flew too low under-the-radar this past summer. Furman, who also directed The Lincoln Lawyer, has a tendency for getting memorable performances, so with Depp in his hands, maybe we'll see a return to form from the actor.