Watch: Animated 'Indiana Jones' Movie 'The Adventures Of Indiana Jones' From Patrick Schoenmaker
Artist Patrick Schoenmaker has spent the last five years creating an animated Indiana Jones movie which was finally released online. The passion project comes in the form of a 1 minute and 40 second short film showing off the incredible possibilities when translating George Lucas' and Steven Spielberg's creation to the hand-drawn animated medium. Hit the jump to watch it now.
Animated Indiana Jones Movie Short
As you can see, The Adventures of Indiana Jones recreates some memorable moments from the film, while imagining some new adventures. The one minute and forty second short almost plays like an opening title sequence montage, offering a look at the possibilities of a potential television series. I really hope that Disney sees this fan-made short film and decides animated Indiana Jones television series might be something worth exploring for DisneyXD, Netflix or another home.
But please, if Lucasfilm does decide to make an animated Indy project, make it 2D animated. I love Star Wars Rebels but the 3D models and animation are not too pleasing to the eye. I understand that series is under major budgetary constraints and they make great use of what they have, but it's frustrating that we don't get to explore more of the galaxy due to the costs of modeling new cities. There is only so much time we can spend in the Ghost or in Lothal.
Now that Disney owns Lucasfilm and the Indiana Jones franchise, it would be interesting if they might consider doing something like this with the iconic character. I would watch an animated Indiana Jones tv series on DisneyXD or another network, or even watch a fully animated movie if they were to make one. At Star Wars Celebration Europe 2016 it was hinted that the now-in-development Indiana Jones 5 might be the first step into a larger Indiana Jones cinematic universe.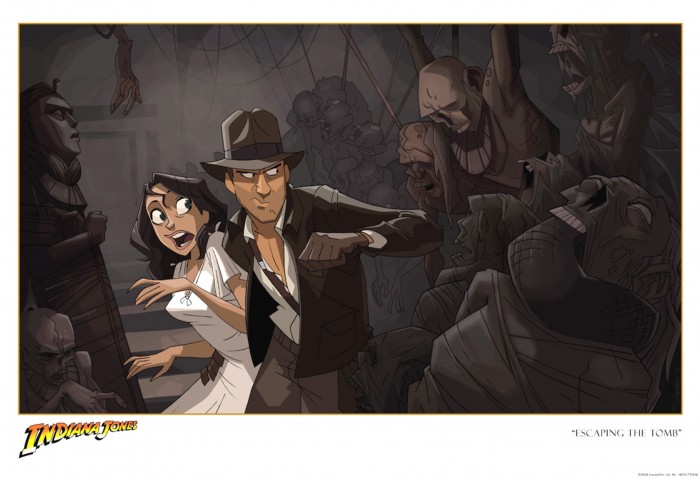 The whole thing started around the release of Indiana Jones and the Kingdom of the Crystal Skull when Schoenmaker was commissioned by Lucasfilm and ACME Archives to create a print envisioning Indiana Jones as an animated cartoon. And while Lucasfilm had no interest in seeing a cartoon version of Indy, Patrick just couldn't stop thinking of the possibility and had to bring it to life as a fan project. Five years later and the Indiana Jones animated movie is complete.
First off, above you can see the "Escaping The Tomb" print that Patrick created for ACME Archives in 2011 (I actually own this print myself) and is still available for purchase. Here Patrick explains how the project came about:
Indiana Jones must have been my first true movie hero ever since I watched Raiders of the Lost Ark on a VCR way back when. Yes, some other heroes came and went, but Indy always held a special place. After Crystal Skull was released, my love for the character was once again fully ignited and with no new movies on the horizon back then, I decided to set up an Indiana Jones project of my own to keep the fire burning a little bit longer. So, that was back in 2011 and "a little bit longer" turned into 5 years of hard work. The end of the project is finally in sight.
I love Patrick's style. Take a look at the images that Patrick Schoenmaker posted over the years while he was crafting over this film: