'Ben-Hur' Will Be Summer 2016's Biggest Box Office Bomb With $120 Million Loss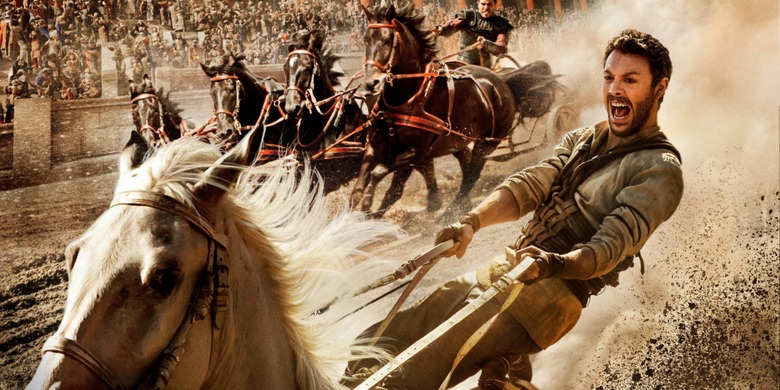 Summer 2016 has seen a fair share of box office disappointments and bombs, but the biggest loser is Timur Bekmambetov's remake of Ben-Hur which will see a projected loss of over $120 million. Learn more about the biggest money losers of this summer, after the jump.
The number comes thanks to multiple box-office analysts consulted by The Hollywood Reporter. Ben-Hur will probably only make $70-75 million globally, which is far less than the film's estimated budget. Sources claim that the movie cost nearly $100 million to make, and that doesn't include the marketing budget.
A film's marketing budget is typically 50% of the film's production budget, but higher with larger tentpole films, sometimes costing more than the production of the movie. Film studios usually make 50% of the US box office and a greater percentage from international markets. Plus, the movie will also make some ancillary revenue from home video sales and television rights. As the THR story notes:
"MGM will take the majority of the financial hit, since it put up more than 80 percent of Ben-Hur's budget and much of the marketing spend (it did minimize some of its exposure by selling off rights in select foreign markets). Paramount's loss is pegged by sources at a relatively modest $13 million."
The other box office bombs of summer 2016 include:
Steven Spielberg's The BFG which grossed $160.8 million globally on a $140 million film budget. The movie is expected to lose $90 million-$100 million.
Alice Through the Looking Glass grossed $295.4 million worldwide on an estimated $170 million budget, which should lead to a loss of at least $65 million for Disney.
Pete's Dragon has earned only $78.3 million (thus far) despite fantastic reviews on a projected budget of $65 million.
Paramount's Star Trek Beyond has made $294 million globally on a $185 million budget, but a lot of the foreign markets are still making money as the film has rolled out in those markets over the past few weeks. Home video and television rights should put this in the black for Paramount.
While 20th Century Fox's Independence Day: Resurgence didn't do too great domestically ($103 million) it did make $383 million globally. While this box office figure isn't great for a movie with a $165 million budget, remember that Hollywood makes a larger percentage off of international markets. After you add the marketing into the equation, the film should end up eeking out a profit from home video and television rights.
Looking at the list above you will see that Disney was responsible for a few of the money losers this summer, but their winners have more than made up for their losses: Finding Dory should earn over $1 billion worldwide, while Captain America: Civil War made $1.15 billion globally.
It will be interesting to see if this fall picks up at the box office. Even Forbes expert Scott Mendelson isn't sure how much money Disney's Rogue One: A Star Wars story might make, calling it a wild card. Could a Star Wars movie fail at the box office? Mendelson notes that the first Star Wars anthology film will probably be a success, it's just we have no idea what level of a success.