'Rogue One' Artwork Gives Us Some Cool New Looks At The Characters And Ships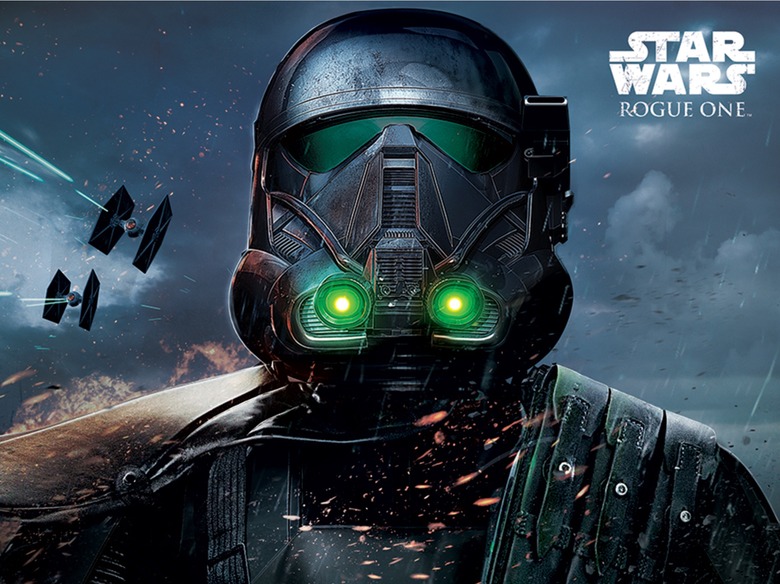 Now that the merchandising gates have opened, we're seeing a flood of new images and artwork for the upcoming Star Wars standalone film Rogue One: A Star Wars Story. Pyramid International has released their newest catalog, which includes a ton of merchandise revealing never before seen promotional artwork for the Gareth Edwards-directed war movie. Hit the jump to see a gallery of new Rogue One artwork.
The following Rogue One artwork comes from the Pyramid International catalog (found via SWU):
As you can see, all of the characters from Rogue One are featured, including heroes Jyn Erso, K-2SO, Bastian, Pac and the rest of the team, as well as the villains Director Krennic, Death Troopers, and even Darth Vader. We also get some cool new looks at some of the film's new ships and planets. There isn't anything earthshaking here but just some cool new looks at characters and ships we've been introduced to in the trailers thus far. Head on over to Pyramid International to see even more merchandise artwork from the upcoming film.
Star Wars: Rogue One tells the story of a group of rebel fighters who are on a mission to steal the plans to the Empire's greatest weapon: the Death Star. Set between the films Star Wars: Episode III: Revenge of the Sith and Star Wars: Episode IV: A New Hope, Rogue One is scripted by Gary Whitta and Chris Weitz based on an idea by John Knoll.
The cast includes Felicity Jones, Diego Luna, Ben Mendelsohn, Donnie Yen, Jiang Wen, Mads Mikkelsen, Alan Tudyk, Riz Ahmed, and Forest Whitaker. "Rogue One" is directed by Gareth Edwards, produced by Kathleen Kennedy, Allison Shearmur, and Simon Emanuel, executive produced by John Knoll and Jason McGatlin, and co-produced by John Swartz and Kiri Hart.
Rogue One: A Star Wars Story opens December 16, 2016.