Mindy Kaling And Reese Witherspoon May Join Ava DuVernay's 'A Wrinkle In Time'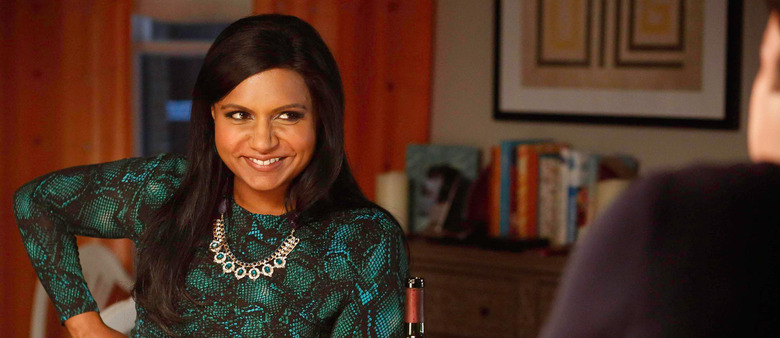 Starting this Fall, Ava DuVernay (Selma) will start shooting her biggest film to date. The filmmaker's adaptation of Madeleine L'Engle's classic fantasy novel already has Oprah Winfrey on board to play Mrs. Which, and Winfrey may soon be accompanied by Mindy Kaling (The Mindy Project) and Reese Witherspoon (Wild).
Below, learn more about the A Wrinkle in Time cast.
The Hollywood Reporter has learned Kaling and Witherspoon are in talks to join the Disney project. The story follows 13-year-old Meg Murry, a young girl who goes on an adventure through the universe, looking for her missing father with her little brother and schoolmate. The three of them can travel to all these fantastical planets thanks to three supernatural beings: Mrs. Which (Winfrey), Mrs. Whatsit, and Mrs. Who.
If a deal is struck, Witherspoon will play Mrs. Whatsit. She's a former star and a two-billion-year-old celestial being who appears as a "grandmotherly hobo." Mrs. Whatsit is also the youngest of the Mrs 'W's. As for Mrs. Who, that role may go to Kaling. Mrs. Who communicates in other languages, quoting some of the greatest thinkers ever to walk this planet; she finds speaking in her own words to be arduous.
Production is scheduled to begin on A Wrinkle in Time this November in Los Angeles. The film is written by Jennifer Lee, the writer and co-director of Frozen. Disney was impressed with Lee's "creative, female-driven take on the science fantasy tale." The studio then spent six months convincing DuVernay to direct the movie. Back in February, she officially signed on to make A Wrinkle in Time.
Here's a summary of L'Engle's novel:
It was a dark and stormy night; Meg Murry, her small brother Charles Wallace, and her mother had come down to the kitchen for a midnight snack when they were upset by the arrival of a most disturbing stranger.
"Wild nights are my glory," the unearthly stranger told them. "I just got caught in a downdraft and blown off course. Let me sit down for a moment, and then I'll be on my way. Speaking of ways, by the way, there is such a thing as a tesseract."
A tesseract (in case the reader doesn't know) is a wrinkle in time. To tell more would rob the reader of the enjoyment of Miss L'Engle's unusual book. A Wrinkle in Time, winner of the Newbery Medal in 1963, is the story of the adventures in space and time of Meg, Charles Wallace, and Calvin O'Keefe (athlete, student, and one of the most popular boys in high school). They are in search of Meg's father, a scientist who disappeared while engaged in secret work for the government on the tesseract problem.