Original 'Blair Witch Project' Movie Could Get An Extended Cut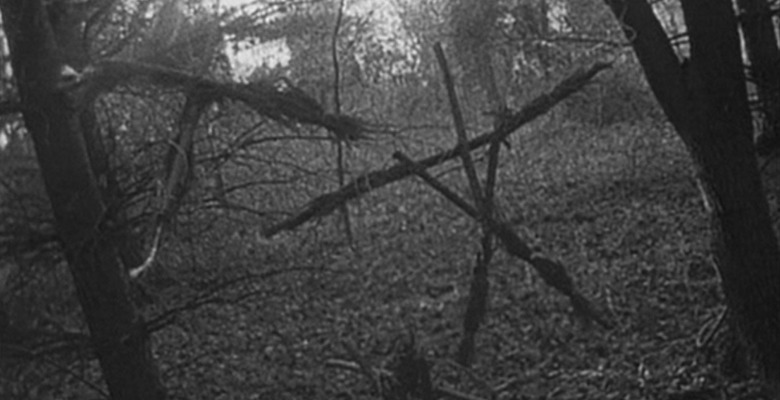 With Adam Wingard's The Blair Witch Project sequel Blair Witch itching to hit theaters on September 16th, a lot of fans are looking back at the original 1999 film. But not jut fans, also the movie's co-director Eduardo Sanchez, who says he would like to create an extended cut of The Blair Witch Project from the 19 hours of footage that was shot for the indie horror breakout.
Eduardo Sanchez tells the Found Footage Files Podcast that he would like to go back and add footage to the 81-minute film.
"In a couple of weeks I could probably take the original movie and edit a longer version. I know the fans are like 'everybody wants to see it' . . . it would be cool to do, honestly. I wouldn't hesitate to do that if Lionsgate Films hired me. I think it would a lot of fun."
But the problem is Lionsgate owns the footage, and the studio doesn't seem interested in creating The Blair Witch Project extended cut. But if there is money to be made, you can be sure they'd pay Sanchez to return to the editing room. The filmmaker told the people listing to the podcast to "Start a petition . . . If I can get enough interest from the fans, I can bring it to Lionsgate Films' attention." Found Footage Critic has done just that. Right now the petition has over 1,300 signatures.
In a previous podcast, Sanchez revealed that the original cut of The Blair Witch Project was three hours long, but the first cut they screened to an audience was two and a half hours. Even that version of the film "we knew it was way too long."
"So we showed the movie and it was a good reaction. It was definitely too long, but that was really the first time where people had seen it like that and just kind of experienced this thing, which was a 2.5 hour version of Blair Witch."
That two and a half hour version of the movie has been lost to time. Eduardo admits that he hasn't been able to find it anywhere: "That's just what happens when you have to reuse Beta SP tapes because you have no money." As for creating a new extended cut of the film, Sanchez admits it "would be a nightmare" to "go back and figure out where the files are and all that stuff" are at this point. But it's something he would be interested in doing. At very least it would be cool to see some deleted scenes from the movie. I'm sure that the Blair Witch sequel would allow for a special edition
At very least it would be cool to see some more deleted scenes/material from the film. I'm sure that the Blair Witch sequel would allow for a special edition re-release of the original movie on home video next year. Sounds like a better time than any to make it happen. Sign the petition and maybe Lionsgate will take notice!
You can watch the original trailer for The Blair Witch Project embedded below, followed by a new tv spot for the sequel Blair Witch, coming to theaters next week.
Via: Screencrush