James Gunn Answers All Of Your Frequently Asked Guardians Vol 2 Questions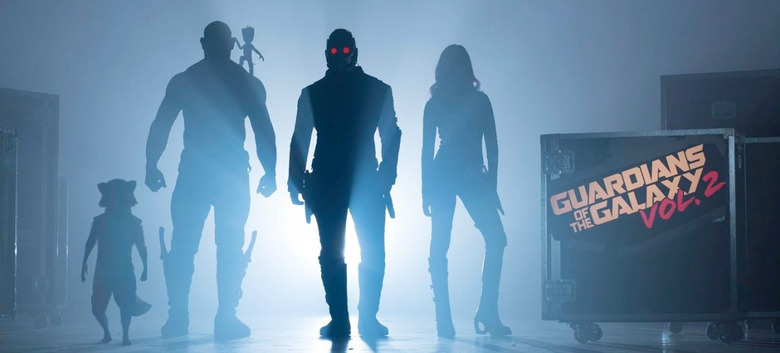 One of the many things I love about James Gunn is how available he makes himself to the fans and how honest and communicative he is in these interactions. Yesterday the Guardians of the Galaxy writer/director took to Facebook to post a long list of answers to your most frequently asked questions about Guardians of the Galaxy Vol 2. The posting is blunt and hilarious, but also informative for those of you who don't follow all the responses that Gunn regularly gives followers on Twitter. Hit the jump to find out the answers to your frequently asked Guardians Vol 2 Questions.
You can read the entire post on James Gunn's Facebook page, which I highly recommend. But for those of you who don't have time to read the whole thing, I will excerpt some of the more interesting Guardians Vol 2 questions and answers:
First, for those who still can't stop asking about the Guardians of the Galaxy 2 trailer, Gunn says, "Does 'before Christmas' work for you?" So expect the trailer to arrive before Christmas, we're assuming along with Doctor Strange, but that's just speculation.
He confirms Vin Diesel is voicing Groot in the sequel and when asked how Diesel will voice a younger smaller Groot, Gunn responded, "Vin is an actor and capable of doing many voices. His Carol Channing is famous in Hollywood."
Asked if baby Groot the same as Groot or if he is Groot's son, Gunn responds "It's complicated." A more interesting answer is when he is asked if Groot retained his memories. Gunn says "No." So looks like Groot might have a completely new relationship with his Guardian team members. And when he was asked if baby Groot stays baby Groot for all of Guardians Vol. 2?, gunn avoided the question which probably means he does not. My personal guess is the film will feature another credits scene like the dancing baby Groot scene from the first film that will offer a progression of his physical appearance.
Asked how did Star-Lord get batteries for his Walkman, Gunn responds "They've mastered space travel, I think they can figure out how to power a Walkman."
Asked how Star-Lord stayed alive without a mask when he saved Gamora out in space, Gunn responds:
"He blew all the air out of his lungs. You can stay alive in outer space for a short while if you don't have air in your lungs. The scene is in slow-motion, so it's longer than it seems. AND Rocket clearly says there's some atmosphere outside of Knowhere – just because there's no gravity doesn't mean there's zero atmosphere."
Asked for hints on music that will be in the sequel, Gunn offered that the two songs played in the San Diego Comic-Con footage were Fleetwood Mac's The Chain and Jay and the Americans' Come a Little Bit Closer. "Does that mean they're in the movie? Maybe." He also reveals that composer Tyler Bates again wrote parts of the score before the movie so it could be played on set: "huge parts of the score are already written, and it's amazing stuff."
As for why Karen Gillan didn't shave her hair off for the role of Nebula this time around, Gunn reveals that "Advances in prosthetics allowed us to glue down her hair flat enough that she didn't look like a conehead in the makeup. And she did shave the back of her head and the underside."
Will the film feature any of The Avengers? "No." Seems definitive.
Guardians of the Galaxy Vol 2 will take place "around a couple of months" after the first time in Earth and character time.
Will Gunn return for Guardians of the Galaxy Vol. 3? The director says that he has "not yet made up my mind" yet but has "a desire to do other things." That doesn't necessarily mean he wants to do smaller movies, Gunn adds, "I mean who knows what will strike my fancy, but I like playing in a big sandbox. I am very comfortable there."
Now for some questions that aren't Guardians of the Galaxy related:
Will he ever make a Slither 2 or Super 2? Gunn says both are "unlikely" because "Slither didn't make enough money, and SUPER ends in a way that I think a sequel would diminish it."
Gunn teases that we should "Stay tuned over the next few weeks" to find out more about when The Belko Experiment, the movie he wrote and produced, will be released. We know that the film is set to premiere at the Toronto International Film Festival which begins this week.
Gunn says he would "love to do a western" someday.
His favorite movies of the year so far include Green Room and he "found Popstar: Never Stop Never Stopping hilarious."