'Luke Cage' Early Buzz: Is Netflix's New Marvel Show The Best One Yet?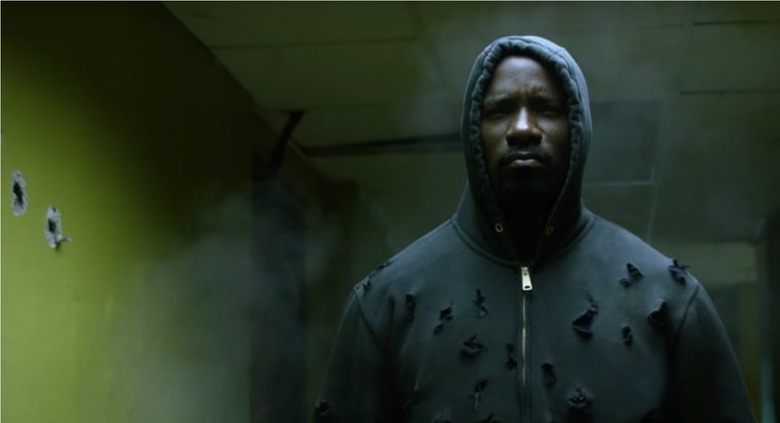 Luke Cage won't premiere on Netflix until later this month (Friday, September 30th, 2016) but the first reviews have begun to hit the web. Television press were given access to the first seven episodes (of the 13 episode first season) and the reactions to the first half of the season are overwhelmingly positive.
Some critics are calling this the best Marvel television series produced thus far by the company, while others who liked what they did with Jessica Jones and Daredevil more agree that the new series fit perfectly alongside these other dark Marvel tv adaptations. Also, a lot of love has been given to the music and tone of this new series, which seems to set it apart from everything else Marvel has produced thus far in both television and film.
Hit the jump to read some spoiler-free excerpts from the early Luke Cage reviews.
Early Luke Cage Reviews
411 Mania says Netflix has another winner with this new Marvel series:
"Luke Cage stands apart from the pack with its own unique identity. In fact, Luke Cage is, in many ways, just as different from the previous Netflix shows as Daredevil and Jessica Jones are from existing Marvel Studios efforts. It's here where Luke Cage truly shines with a style and attitude that is all its own." ... "Luke Cage undoubtedly has the best soundtrack ever conceived for any Marvel project to date. Music is a major part of the show's identity and really helps Luke Cage stand out in a satisfying way." ... "Luke Cage thus far is another winner for the Marvel Netflix line. The show bravely forges its own identity in presenting a show with a unique style and attitude that make it truly entertaining. However, the show still doesn't forget its comic book roots."
Comics Beat loved the show:
"Luke Cage is, without fail, exceptional on all fronts." ... "Much like Jessica Jones is a show with a very specific point of view (that of a woman), Luke Cage takes a look at black culture head-on. In between its more high-octane sequences, Coker and the writing staff tackle some truly heady stuff, including black identity, class conflict, inner-city crime, civic pride, and life after imprisonment."... "this is the rare superhero piece that transcends its origin point and becomes something much grander and more profound. In a set of years where we've come to see that we really don't live in a post-racial America, this is a series that needs to be seen. Coker's perspective is invaluable and the clarity of his voice rings through at all points." ... "One of the best aspects of each of Marvel's Netflix offerings is the richness of their villains, as both Fisk and Kilgrave proved to be menacing and mostly multi-faceted creations that blow away their big screen counterparts, save for Loki."
Collider praises the cast and the exploration of Harlem:
"It's an intimate portrait of street life, detailing not only the inner workings of the crime syndicates, but also the beleaguered police, sleazy politicians, and the young people in the community who see guns and drugs as an easy way to make money." ... "Luke Cage does an excellent job giving each of its cast members ... distinct personalities and memorable moments that create immediate stakes." ... "[Colter] gives Cage a sense of reticence mixed with righteous defiance that hits all the right notes for a hero who uses his strength only as a last resort, and he does so in low tones and with a casual confidence. Though Cage isn't always confident, he's extremely principled with a magnetic charisma, making him a kind of Captain America to this ragtag group of vigilantes. Though he may struggle to define his heroism and what it means for himself and Harlem, there are no complications for viewers. He is the hero we've been waiting for."
The Nerd Repository says the series doesn't have a crazy original plot but agrees it's a very unique vision:
Marvel's Luke Cage doesn't reinvent the wheel when it comes to revenge stories or even superhero ones – in fact, much to my surprise the series just seems to revisit those tropes beat-by-beat. ... But what the series lacks in overall original plot, it by far makes up for with a fantastic injection of great music, tremendous performances from the impressive cast, and colorful characters set in a very unique and very adult corner of the MCU." ... "Marvel's Luke Cage is overflowing with terrific personality and culture, while also providing enough of the "holy shit" moments we've all come to love from Marvel's Netflix. While much of the plot structure is a revenge story cliché, Cheo Hodari Coker's vision for the series still plays out as a wonderful mash-up homage to the original "blaxploitation" Luke Cage comics in a modern, moving setting with a solid message for today."
Den Of Geek seems to like the show but admits it falls into some of the same problems of the other Marvel Nertflix shows:
"Luke Cage lacks the eye-popping martial arts choreography of Daredevil or the heart-pounding psychological terror of Jessica Jones. ... But like its predecessors, Luke Cage boasts an excellent cast, tremendous atmosphere, and a willingness to go places that other Marvel Studios productions can't. And it brings a few fun twists to the party, too." ... "The show hits the usual Marvel Netflix problems, though. There are some archetypes that get leaned on a little too heavily and characters have a tendency to monologue, sometimes aggressively." ... "the quality and commitment to characterization and story on display in Luke Cage still feels miles ahead of some of their other [Netflix television] efforts."
JoBlo was a little less positive on the new series:
"The results are a very promising mix of action and drama that avoids the pitfalls of being classified solely as an urban series. Luke Cage fits right in with it's predecessors but also maintains a very unique and distinct sound thanks to a great selection of music." ... "Luke Cage plays very much like a throwback to 1970s blaxploitation films but with a more nuanced and modern approach." ... "But, Luke Cage does have some minor kinks to work out. While the series does have more of a slow burn approach compared to the big screen Marvel franchises, it does feel very unevenly paced."