'The Bad Batch' Clips: Jason Momoa And Suki Waterhouse Navigate A Cannibal-Infested Wasteland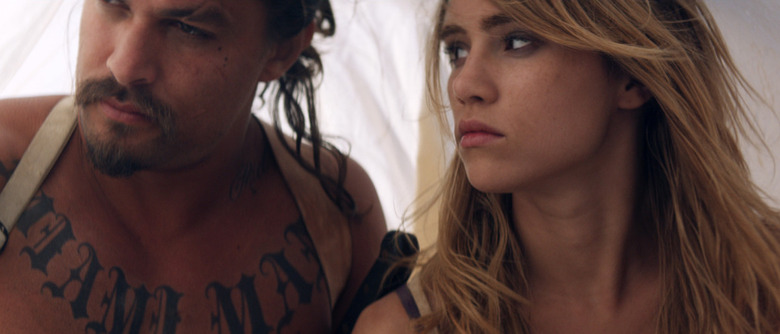 With summer blockbuster season behind us and fall festival season in full swing, we're starting to get a peek at some of the more offbeat entertainments coming up on the horizon. One title we've been particularly interested to see is The Bad Batch, the second feature from director Ana Lily Amirpour. Her debut, A Girl Walks Home Alone at Night, wowed with its style and originality, and the premise of The Bad Batch — "a girl walks across a cannibal-infested desert at midday" — suggests she's not toning down any of her unconventional edge. Toss in
Toss in Jason Momoa and Suki Waterhouse as the two leads, and it's no wonder this film was building hype before it even made its Venice premiere. Today we've got the first two Bad Batch clips to give you a little taste of the madness to come, plus a look at some of the early reviews. 
The Playlist debuted the first two The Bad Batch clips. The story follows a Texan girl (Waterhouse) who's cast out of civilized society and subsequently captured by a group of cannibals (including one played by Momoa). Keanu Reeves, Jim Carrey, Diego Luna, and Giovanni Ribisi also star. The first clip below introduces Momoa's character and the world he inhabits, while the second is all about Waterhouse.
Not a lot really happens in the clips, but they do a lot to establish the weird, dystopian setting of The Bad Batch. Clearly, Amirpour hasn't lost her knack for setting a mood. Otherwise, however, reviews for The Bad Batch have been somewhat mixed.
Rory O'Connor at The Film Stage:
Ana Lily Amirpour's second feature shoots for Harmony Korine meets Mad Max and would have nearly almost hit the mark were it not for the gratingly aloof attitude and the swaths of directorial license being taken. The Bad Batch — an ambitious, expansive dystopian sci-fi western which features partying, drugs, and cannibals — might come as music to the ears of diehard fans of films like Spring Breakers and Gummo (a kid doesn't quite eat spaghetti in a bathtub, but a kid does eat spaghetti after being in a bathtub). However, beneath its dazzlingly hip surface the script and characters leave much to be desired. It's like taking a trip to Burning Man: a pseudo-spiritual, uniquely punky experience perhaps, but one that's full of annoying rich kids and ultimately emotionally shallow.
Jessica Kiang at The Playlist:
Consider, for a moment, a lesser "Mad Max: Fury Road." Now consider a greater "Southland Tales." Now drive out, preferably on a clapped-out scooter or a souped-up golf cart, into the Saharan expanse of quality that still exists between those two things, find the exact midpoint and plant a flag for Ana Lily Amirpour's second feature "The Bad Batch," a film that frustratingly contains a good, or at least a fun movie, without actually being a good, or a particularly fun, movie. There's hope, to be sure: a snip-happy re-edit of the exact footage that unfurled at its Venice premiere could maybe deliver exactly the rip-roaring, grotesque, 85-minute grindhouse nasty we all hoped that the director of "A Girl Walks Home Alone At Night" would turn in for her sophomore feature, but the 112-minute version plays instead like an unnecessary, long-after-the-fact, extended cut of that film.
Still, as sophomore slumps go, "The Bad Batch" remains a seductive one, alive with electric imagery and inchoate ideas regarding heroism in the margins, and the fundamental inequity of the American Dream. Would that Amirpour trusted the subtext of her own script a bit more: There's surely little need for on-screen billboards bearing slogans like, "You can't enter the Dream, the Dream enters you."
David Rooney at The Hollywood Reporter:
Running close to two hours, the movie is overlong and not without draggy patches, but it's sustained enough to keep you watching. And with its depiction of an extraterritorial American wasteland where society's rejects are dumped to fend for themselves after being tattooed with a "bad batch" number, it's also a bizarro fantasy that might easily be the hideous result of some kind of demagogical Donald Trump cleanup experiment. Its weirdness alone should guarantee the movie an audience, unlike The Neon Demon, a far more self-indulgent and self-consciously droll recent excursion into genre art that shared scenes of human snack food.
In short, The Bad Batch seems like more of a mixed bag than A Girl Walks Home Alone at Night was, but it also sounds like the next step forward in establishing Amirpour as a rising filmmaker to watch. The Bad Batch next hits TIFF. It does not yet have a U.S. release date.
A girl walks across a cannibal-infested desert at midday.... Ana Lily Amirpour's highly anticipated follow-up to A Girl Walks Home Alone at Night feints in the direction of sensationalistic horror — and, be forewarned, blood is spilled and limbs are hacked — but The Bad Batch, like Amirpour's deliciously low-key debut, uses genre as a springboard for high style and social commentary.
The aforementioned girl (Suki Waterhouse) is one of thousands of Americans deemed unacceptable to civilized society. While wandering in her desert exile, she is captured by a community of cannibals. She manages to escape, soon ending up at a very different enclave of outcasts. Our heroine is safe here, but still does not quite feel that she has found her tribe.
On an excursion beyond the gates of her new shelter, she encounters one of her former cannibal captors (Jason Momoa), who ends up requiring her help. But can she do it without one of them getting slaughtered in the human-eat-human world where savagery is considered central to survival?