'Spider-Man: Homecoming' Set Pics Reveal New Villain; See More Of Spidey In 'Civil War' Behind-The-Scenes Footage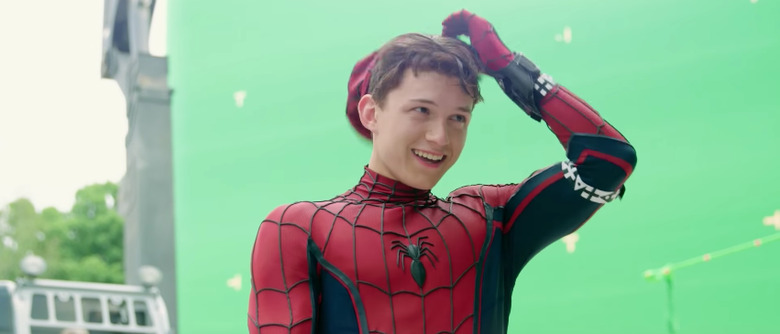 Tom Holland's Spider-Man didn't get a ton of screentime in Captain America: Civil War, but he made the most of what he got and left us wanting more. Naturally, Marvel is more than happy to step up and fill that need. The Civil War Blu-ray includes tons of behind-the-scenes footage including mmore of Holland as Spidey, sometimes in his full suit and sometimes in a mo-cap outfit.
And of course, that's just the start of it, as we'll get to see even more of the character when Spider-Man: Homecoming hits theaters next year, Unsurprisingly, the studio is playing coy with plot details for Spidey's first solo outing; equally unsurprisingly, set photos have started to drop some intriguing hints about what we can expect. Specifically, a new batch of photos reveals what looks like yet another villain for Spider-Man: Homecoming. 
YouTube user stayupthere combed through the Captain America: Civil War Blu-ray bonus features and put together this charming supercut of Holland behind the scenes.
Set videos like these are always a nice reminder of how bizarre these movies look in reality, eh? That giant airport showdown looks downright goofy in real life, with a bunch of costumed actors running at each other and throwing half-hearted fake punches. And let's not even get into those mo-cap suits. That's not a knock on Holland or any of the other talents involved with Civil War, all of whom were immensely impressive in the film itself. It's just how these movies are made.
Moving on: several photos have revealed Bokeem Woodbine on set, and the yellow costume sure makes him look like the Shocker. He's got a dirty yellow mask that covers his entire face, a beat-up brown leather vest over a yellow sweater, and silver mechanical gauntlets covering his forearms. Add that to the call sheet we saw last month listing the actor as "Shultz/Shocker," and it seems pretty clear that Woodbine is playing the film's third villain, even if Marvel isn't ready to officially confirm his character name yet.
The primary villain of Spider-Man: Homecoming is the Vulture, presumably played by Michael Keaton. Michael Chernus is playing a secondary villain, the Tinkerer. How exactly all the characters will fit together is still unclear, but it's obvious Spidey's going to have his hands full.
Spider-Man: Homecoming arrives in theaters July 7, 2017.