Hear The Adorable Original Demo Song For Frozen's "Do You Want To Build A Snowman"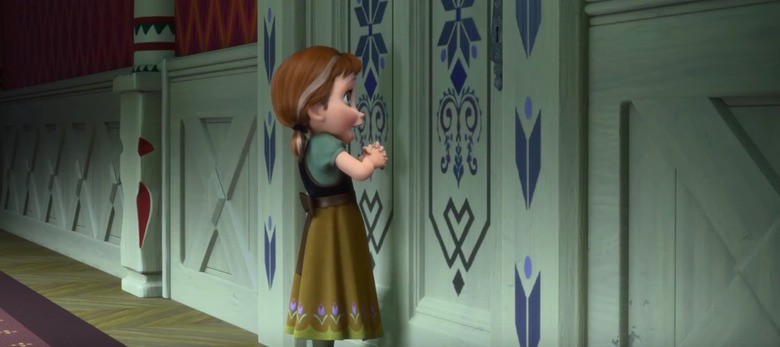 It's Friday, and the news is getting slower so I thought I'd share something I found that you might enjoy. Frozen songwriter, Kristen Anderson-Lopez took to Twitter today to share the story of how the song "Do You Want To Build A Snowman?" came to be, posting a clip of the original first verse demo she produced with her child.
Kristen Anderson-Lopez shared the following story on her Twitter account (I have cleaned up some of the text to read more clearly)
If I get to 7,000 follows by 5pm, I'll release an original clip of the original first verse of "Do You Want To Build A Snowman" as performed by our 2 yearr old. #unheardfrozen So, a little setup: We wrote Anna at 3 ages. We thought our almost 3 years old would do verse 1, our 7 years old would do verse 2, and Kristen Bell would do vs 3. The lyrics are slightly different: "...we could play out in the orchard , build a snowy fort, whatever you wanna dooooooo! Do you wanna build a snowman, cause I wanna build a snowman (beat) with you..." But our 3 year old child was more interested in eating nilla wafers than recording. So this is the first demo attempt in 2012 before we moved our 7 year old to first verse and Agatha (Jenn Lee's daughter) to second verse.
You can listen to the 51-second demo song on Chirbit or DropBox (unfortunately, there is no embeddable option). How adorable. It's also great to get a glimpse into the evolution and creative process behind the making of iconic Disney songs like this. It is interesting that the first verse was originally going to be sung by Anna at three different ages.
And for those wanting to revisit the finished song from the 2013 Walt Disney Animation Studios film, I have included that clip below:
Anderson-Lopez is currently working on songs for Disney Animation's Gigantic, a reimagining of the Jack and the Beanstalk fairy tale.