'Life On The Line' Trailer: Gentlemen, It's Going To Get Bad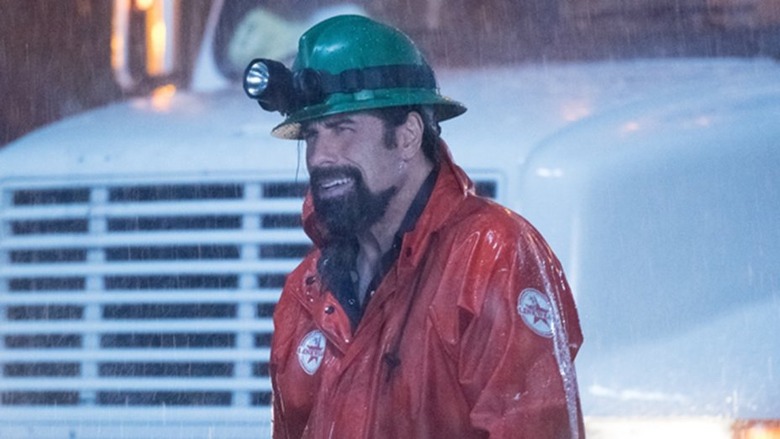 John Travolta is fantastic in The People v. O.J. Simpson. In season one of FX's new American Crime series, he's hilarious as the insecure and loud Robert Shapiro. It's a big, committed performance, and arguably his best work in years. Earlier this year, we also saw the actor in the action movie I Am Wrath, which didn't seem to generate much buzz or conversation. We still possibly have two more Travolta movies coming our way before 2016 wraps up, including the promising In a Valley of Violence and possibly Life on the Line, a drama/thriller about a crew power line workers.
Below, watch the Life on the Line trailer.
From the director of Saw V and Into the Grizzly Maze, David Hackl, Life on the Line is mostly set on the day of a dangerous storm. Travolta plays Beau, "a salt of the earth man" not too impressed by his orphaned niece's (Kate Bosworth) boyfriend, Duncan (Devon Sawa), who she's having a baby with. Will the two men work through their differences and make it through the storm? Most likely, but we'll see. Travolta, Bosworth, and Sawa are also joined by Sharon Stone in the film.
Here's The Life on the Line trailer:
Going from Beau's brother's death to the romance to full-on disaster movie feels like too much for one trailer. It's a little uneven, and what's shown is what's expected from this sort of material. Life on the Line looks very earnest, but let's hope it's not painfully so. If this trailer has got one thing going for it, though, it's Travolta, who might be reason enough for some people to see Life on the Line, although it's currently without a domestic release date. Just last month, however, it came out on DVD in Japan and Germany.
Here's the official synopsis:
Life on the Line is an exhilarating action drama, which follows the lives of a crew of eccentric and courageous Texan power line workers who do the extremely dangerous work of fixing the crumbling electrical grid. John Travolta stars as 'Beau', a salt of the earth man who blames himself for his brother's death and raises Bailey, his orphaned niece (Kate Bosworth). His worlds collide when Bailey's handsome lover joins his linemen crew on the eve of a massive and deadly storm that threatens to rip their lives apart.
Life on the Line is currently without a release date.