The Third Installment Of The 'Kickboxer' Reboot Trilogy Has A Title And Start Date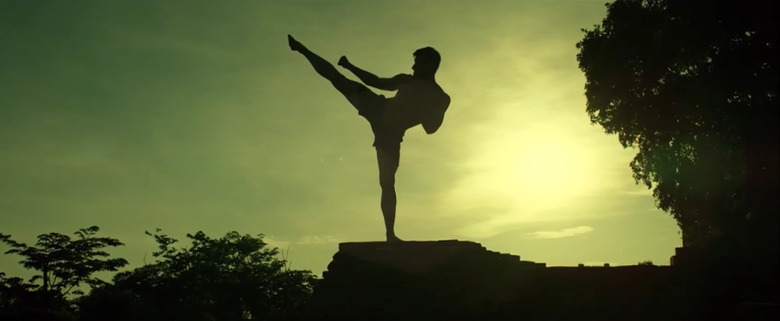 This weekend's Kickboxer: Vengeance reboots the martial arts franchise that began in 1989, with Alain Moussi replacing Jean-Claude Van Damme as the new Kurt Sloane and Van Damme himself stepping into the role of Kurt's mentor Durand. The film is meant to kickstart a new trilogy, and the producers are wasting no time. A sequel, Kickboxer: Retaliation, has already wrapped shooting, and now they're barreling ahead with plans for another sequel. 
Variety reports producer Rob Hickman shared the Kickboxer sequel plans at the Kickboxer: Vengeance premiere in Los Angeles this week. According to him, shooting on the next next Kickboxer sequel will get underway in February. He also revealed that the film will be titled Kickboxer: Syndicate. Earlier reports have described the Kickboxer reboot as a trilogy, which would make Syndicate the last film in the series. But frankly, if these movies do well enough it's hard to imagine the series won't continue in some capacity.
Not many details have been revealed about Syndicate. Vengeance has Kurt seeking revenge on Muay Thai champion Tong Po, who fought and killed Kurt's brother Eric. Eager to take on Tong Po himself, Kurt begins training with Eric's former mentor Durand. Retaliation begins several months after Vengeance. Kurt has left Thailand, but when he's forced to return he learns the hard way that there is much more to the Tong Po story. Van Damme is confirmed to return as well. Presumably, Syndicate will pick up Kurt's thread from there and — going out on a limb here — pit him against some sort of criminal syndicate.
We can surely also expect many more impressive martial art stunts in the next two Kickboxer movies. "Martial arts are a passion of mine," said Vengeance writer-producer Dimitri Logothetis. "Adults enjoy these films if they've got a little kid left in you. This one is authentic, partly because the stunts aren't doubled and there's a wonderful athleticism to it."
Indeed, the Kickboxer reboot has attracted stars with physical backgrounds, like Dave Bautista, Gina Carano, and Georges St-Pierre in Vengeance and Mike Tyson, Roy "Big Country" Nelson, Brian Shaw, and Hafþór Júlíus Björnsson (a.k.a. the Mountain from Game of Thrones) in Retaliation. That's in addition to Moussi, who is a stuntman and martial artist as well as an actor. And I'm sure I don't need to explain Van Damme's resume here. It should be interesting to see which other names they're able to round up for Syndicate.
But we're getting ahead of ourselves. If you're intrigued by the Kickboxer reboot series, you'll first want to check out Kickboxer: Vengeance, which hits theaters and iTunes today (September 2). Our own Fred Topel warmly recommends it:
Fighting has gotten much more sophisticated since 1989's Kickboxer and therefore it is in the movie. Moussi has great moves (including the splits) so I'll definitely want to watch him in other action vehicles without the Kickboxer brand, although a sequel, Kickboxer: Retaliation is next for him. Bautista is terrifying as Tong Po. As endearing as he was as Drax in Guardians of the Galaxy, he is using his strength for pure evil here.