'Shut In' Trailer: Jacob Tremblay Might Be Haunting Naomi Watts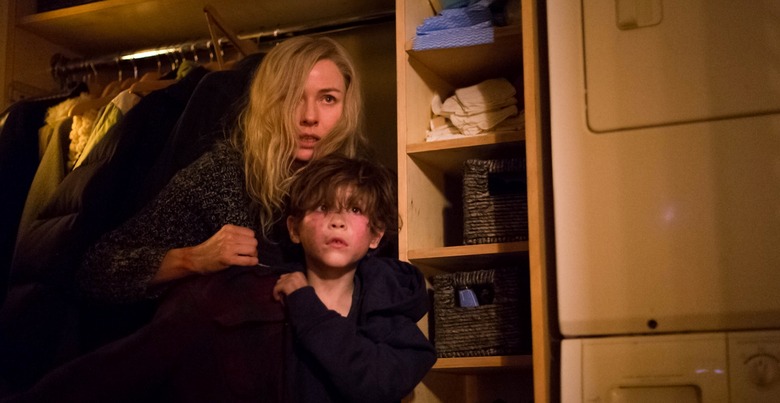 If there was one thing we learned last Oscar season, it was that Jacob Tremblay is basically the cutest kid ever. He was endearing in Room and even more adorable on its press tour, winning everyone with his tiny sharp suits and gleeful Star Wars fandom. But now he's using his wide-eyed innocent schtick for evil.
Shut In stars Tremblay as Tom, a boy traumatized by the loss of his parents. He catches the attention of Mary, a psychiatrist (Naomi Watts) who's reeling from a car accident that killed her husband and left her teenage stepson (Stranger Things' Charlie Heaton) in a catatonic state. But after Tom disappears under Mary's care, things take a turn for the creepy. Oliver Platt also stars. Watch the Shut In trailer below. 
Shut In is directed by Farren Blackburn, who last directed the Viking epic Hammer of the Gods. Even if you're not familiar with his movie credits, though, you've probably seen his small-screen work, as he's directed episodes of Doctor Who, Luther, and Daredevil. In a chat with USA Today, Blackburn teased the mysteries of Shut In. "All is not what it seems," he said. "Mary is convinced Tom is dead and haunting her, she can hear him in the walls of her house."
The Shut In trailer is ambiguous about whether Tom is really haunting Mary, but either way Tremblay agrees his new character has a bit of an edge. "Tom's a dark character. Not Batman dark. But he's scared, has rings under his eyes and looks creepy," he said. Shut In is one of two horror movies Tremblay has coming out in the near future — the other, Mike Flanagan's Before I Wake, has Tremblay playing an orphaned kid whose nightmares become reality.
Shut In opens November 11 in the U.S. Christina Hodson wrote the script.
SHUT IN is a heart-pounding thriller starring Naomi Watts as a widowed child psychologist who lives an isolated existence in

rural New England. Caught in a deadly winter storm, she must find a way to rescue a young boy before he disappears forever.