Watch Spike Jonze's Amazingly Bonkers Perfume Ad For Kenzo World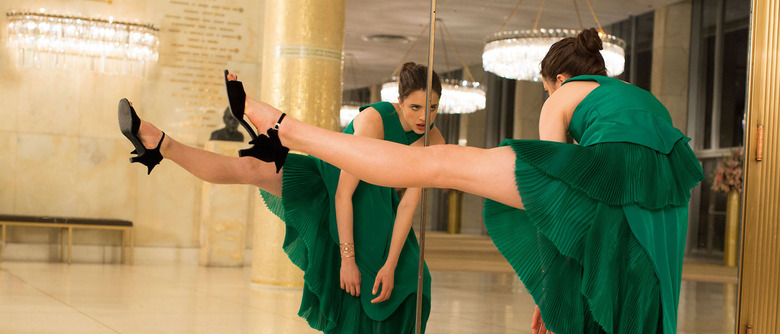 Like a lot of filmmakers, Spike Jonze started out directing music videos and commercials, and also like a lot of filmmakers, he still likes to return to short-form projects from time to time. Recently, he teamed up with French fashion house Kenzo to help promote their new fragrance, Kenzo World. But what they came up with isn't your typical perfume ad, with sexy models lounging around and whispering seductive nonsense phrases. It starts out looking like it could be one, but then turns into something much weirder and cooler than that.
Basically, imagine Jonze's own "Weapon of Choice" music video, but with the manic, expressive choreography of Sia's "Chandelier." Then drop The Nice Guys actress (and trained ballerina) Margaret Qualley into the middle of it all, and that's the new Spike Jonze perfume ad right there. In other words, it's something you definitely want to put in front of your eyeballs right this second. Click ahead to do just that. 
Titled "My Mutant Brain," the Spike Jonze perfume ad for Kenzo World opens with Qualley calmly sitting in the middle of some dreary formal function. Clearly bored, she makes an excuse to slip out of the room... and then breaks into a frantic dance that takes her through the empty halls of an elegant event space, and gains an almost magical tinge by the end. It's no coincidence that the dance looks like something out of a Sia music video — it was choreographed by Ryan Heffinton, whose credits include "Chandelier" and "Elastic Heart." Meanwhile, the music you're hearing is an original track by Sam Spiegel and Ape Drums, featuring Assassin. (If you'd like to use it as the soundtrack to your own dance break, you can find it on iTunes and Spotify right now.)
You can watch almost the entire video without realizing it's a perfume ad, which is by design. Instead, the goal is to get your attention and attach a certain personality to the fragrance. "The Kenzo girl inhabits the present, like right now," said the company in a statement to Ad Week. "She's not nostalgic at all. She likes movement and speed and the way things shift and slide and collide in real time. She's never blasé, always enthusiastic. She stands out from the crowd."
If that describes you or someone you know, well, they surely hope you'll consider picking up a bottle of Kenzo World the next time you're at the department store. And if not, then you still get to enjoy that amazing Spike Jonze-directed video. Either way, everyone wins.
And since "My Mutant Brain" has already put us all in a party mood, here's Jonze's "Weapon of Choice" to keep the good times going.