Zach Braff Will Direct And Star In The New ABC Comedy 'Start Up'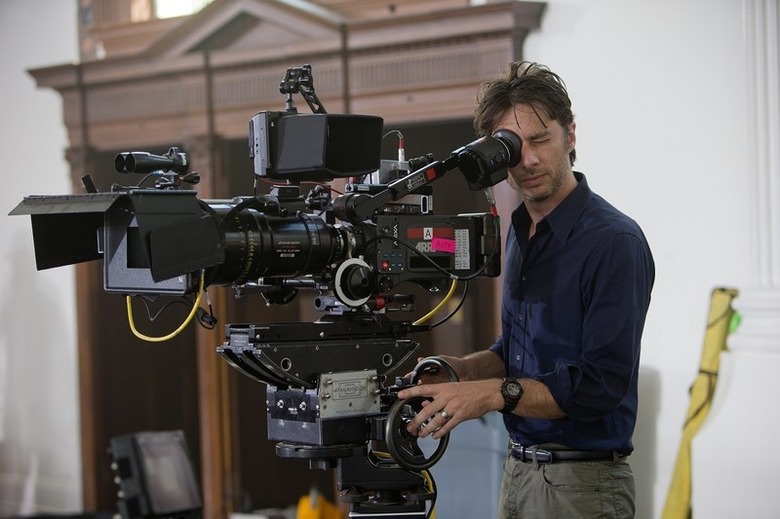 Zach Braff is returning to television. The actor's new series, Start Up, has locked up a put pilot commitment from ABC. In addition to starring in the pilot, Braff will direct it as well. The series marks a reunion between Braff and the network, where his breakout series, Scrubs (a show that went on one season too long), ended up after its time at NBC.
Below, learn more about the Zach Braff ABC comedy.
According to Deadline, the single-camera comedy will reunite Braff with a co-executive producer from Scrubs, Matt Tarses. Tarses wrote the pilot for Sony TV/Davis Entertainment's project, and it's based on This American Life's Alex Blumberg and Lisa Chow's StartUp podcast, a "show about the human side of business." Blumberg chronicles starting his own business, and the plot of the series is similar. Start Up – a title likely to change because of a Crackle show –is about a man's (Braff) decision to quit his job and start his own company. He'll experience "the good, the bad and the ugly" of this new venture with his wife and two kids.
Braff will executive produce the comedy series with Davis Entertainment's John Davis and John Fox. Blumberg and some people – Chris Giliberti and Matt Lieber – from his company, Gimlet Media, are attached as executive producers as well. Deadline credits Davis Entertainment's Mike Stein for introducing the StartUp podcast to the company, making the pilot and comedy series possible.
Start Up is the first series Braff will star in since his days on Scrubs. He left that series before its disappointing final season. Since then, he's only acted in a few films and, most notably, turned to Kickstarter for his second directorial effort, Wish I Was Here, a movie that didn't strike as strong of a chord with audiences as Garden State did back in 2004.
Braff's next film as a director is a remake of Going in Style, which stars Morgan Freeman, Michael Caine, and Alan Arkin and opens in theaters next spring. When he shoots the Start Up pilot is unknown, but after all of the funny, sweet, and sometimes crushing episodes of Scrubs he starred in — a few of which he directed — Braff once again headlining a show is welcomed news, especially if Start Up ends up being anywhere near as charming as his previous series.
Season four of the StartUP podcast begins this October.