'In Dubious Battle' Trailer: James Franco Does John Steinbeck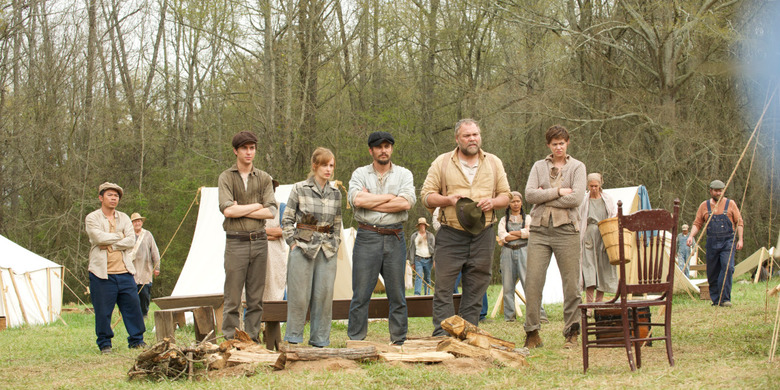 Having previously adapted William Faulkner and Cormac McCarthy for the big screen, James Franco has set his sights on another great American author. His latest film is In Dubious Battle, based on John Steinbeck's novel of the same title about fruit pickers going on strike in Depression-era California. In addition to directing, Franco also stars alongside Nat Wolff, Robert Duvall, Vincent D'Onofrio, Selena Gomez, and more.
Ahead of the film's debut on the fall festival circuit, the first promo has been revealed. Watch the In Dubious Battle trailer below.
Here's the first In Dubious Battle trailer via Deadline.
The source material is well regarded and tackles grand themes that are still relevant today. The cast is a promising mix of established veterans, respected character actors, and up-and-comers. But the trailer isn't super promising. Even Robert Duvall can't make an opening line about a price cut sound exciting, and most of the dialogue seems expository or heavy-handed or both. Hopefully, this is just a clumsily edited promo and not an accurate representation of the film itself.
Either way, it shouldn't be long before critics begin weighing in on Franco's latest literary adaptation. In Dubious Battle makes its world premiere at the Venice International Film Festival next month before hitting the Toronto International Film Festival. No U.S. theatrical release date has been announced yet. Here's the synopsis from TIFF:
Set in the orchards of California Valley in the dirty '30s, Steinbeck's tale follows two young idealists from "The Party" who are appalled by the orchards' terrible working conditions and set out to organize the fruit pickers. Having arrived from out of town, Mac McLeod (Franco) and Jim Nolan (Nat Wolff) are met with skepticism and some outright hostility when they first suggest unionizing. Most of the pickers simply want to work and get paid, even if they are being mercilessly exploited. Mac and Jim realize that their progress depends on convincing local elder Al Anderson (Vincent D'Onofrio). He's a hard nut, but could be won over after Mac helps his daughter-in-law, Lisa (Selena Gomez), when she goes into labour. Surrounding the two activists is a cast of eclectic characters with varying loyalties, among them the ruthless orchard owner (Robert Duvall), who is determined to crack down on any strike action.