Joe Manganiello Is Deathstroke In Ben Affleck's 'Batman' Solo Film [UPDATED]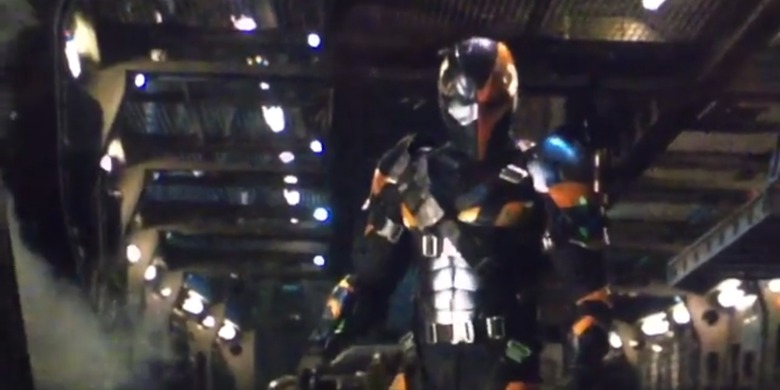 Two weeks ago Ben Affleck shared a brief video revealing Deathstroke as the villain for the star/producer/director's Batman solo film. Later that day, fans picked up on some clues that led them to believe that Magic Mike actor Joe Manganiello might be the person under that Deathstroke mask. And now we have a confirmation that Joe Manganiello is Deathstroke.
Our August 29th 2016 story follows with updates:08
— Ben Affleck (@BenAffleck) August 29, 2016
As you can see, Affleck did not offer any additional commentary to go with his cryptic tease. It was later confirmed via TheWrap that Deathstroke will be the main villain in Affleck's upcoming Batman solo movie.
As soon as Affleck served up that Deathstroke tease, fans began speculating about who could be playing the character, with OmegaUnderground casting their sights on Joe Manganielloo. The actor, who was previously rumored to be playing Deathstroke in Suicide Squad, is currently in London and recently followed Zack Snyder on Twitter. It's not exactly airtight evidence — there are surely hundreds if not thousands of people who are in London and also follow Zack Snyder on Twitter, and most of them are not playing Deathstroke. But make of it what you will.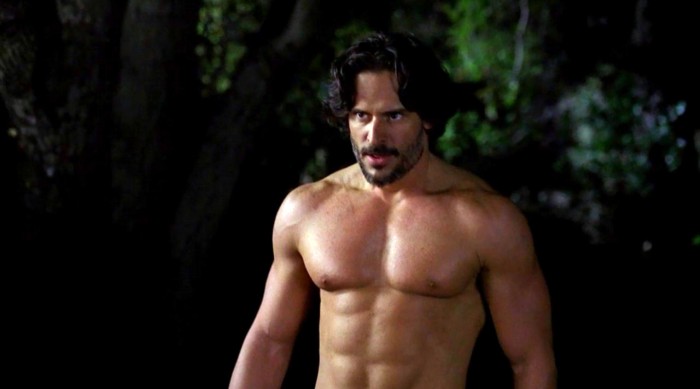 Joe Manganiello is Deathstroke
Update: DC executive Geoff Johns confirmed to WSJ that Joe Manganiello has been cast as Deathstroke for Affleck's Batman movie. Johns declined to comment on whether Deathstroke has a cameo in Justice League, which is currently shooting in London. So we still don't know if the footage Affleck released online was a screen test or part of shooting for Zack Snyder's superhero team-up film.
Created in 1980 by Marv Wolfman and George Pérez, Deathstroke is the alter ego of Slade Wilson, a mercenary and assassin who's done battle with DC heroes like Batman and Green Arrow. He's trained in martial arts and combat, and thanks to an experimental serum he has enhanced speed, stamina, endurance, and reflexes. In addition, he has a brilliant tactical mind and an accelerated healing factor.
The character has been portrayed in live-action on a few different shows. He was played by Antonio Sabato Jr. in Lois & Clark: The New Adventures of Superman, Michael Hogan in Smallville, and Manu Bennett in Arrow. However, Justice League will be the first time Deathstroke has appeared in a live-action movie. Here's what the character looks like in the comics: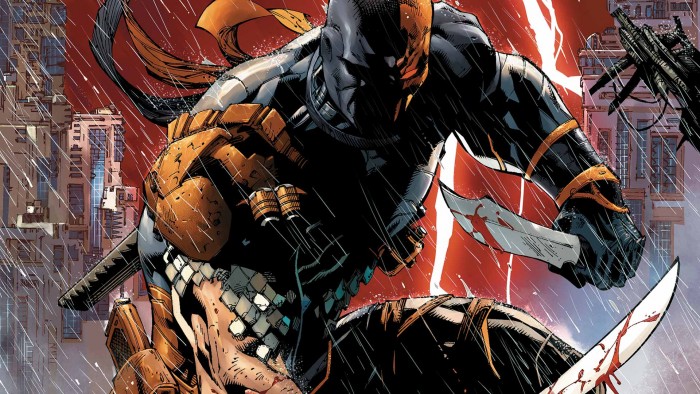 Justice League isn't out til November 17, 2017 so expect many more little tidbits of information to trickle out between now and then. Zack Snyder is directing and Affleck stars with Gal Gadot, Ezra Miller, Jason Momoa, and Ray Fisher.
Fueled by his restored faith in humanity and inspired by Superman's selfless act, Bruce Wayne enlists the help of his newfound ally, Diana Prince, to face an even greater enemy. Together, Batman and Wonder Woman work quickly to find and recruit a team of metahumans to stand against this newly awakened threat. But despite the formation of this unprecedented league of heroes — Batman, Wonder Woman, Aquaman, Cyborg and The Flash -— it may already be too late to save the planet from an assault of catastrophic proportions.