'A United Kingdom' Trailer: David Oyelowo And Rosamund Pike Strike Up A World-Changing Romance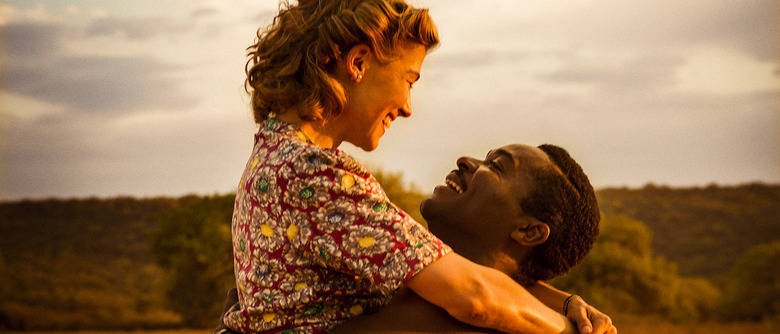 A United Kingdom is like a trifecta of talents who seem like they should be much bigger than they are. In the lead roles it has Rosamund Pike and David Oyelowo, who gave two of the best performances of 2014, and behind the camera it's got Amma Asante, who delivered the smart period drama Belle that same year. While none of them are at household name status quite yet, all three are worth keeping an eye on. So when they all converge for one project, you can bet we'll be paying attention.
Based on a true story, A United Kingdom chronicles the eventful romance of Seretse Khama and Ruth Williams. The two meet and fall in love in 1940s London, which is tough enough given they're an interracial couple — but their relationship is further complicated by the fact that he is the prince of Bechuanaland (present-day Botswana). The film is slated to debut at TIFF next month, but before we get there you can check out the first A United Kingdom trailer below. 
The A United Kingdom trailer lays it on a bit thick with the inspirational quotes and epic music, but that's not atypical for a sweeping drama. Asante did a fine job combining personal drama and historical relevance in Belle, another story about a character caught between worlds, so hopefully she can work the same magic again here. It helps that Pike and Oyelowo make for a powerhouse acting team, and seem to share some winning chemistry to boot.
A United Kingdom doesn't have a U.S. release date yet, but look for more updates after its TIFF debut. The film also stars Laura Carmichael, Tom Felton, Jack Davenport, Charlotte Hope, and Jack Lowden.
Starring David Oyelowo (Selma) and Rosamund Pike (Gone Girl); and directed by Amma Asante (Belle), A UNITED KINGDOM tells the inspiring true story of Seretse Khama, the king of Bechuanaland (modern Botswana), and Ruth Williams, the London office worker that he married in 1948 in the face of fierce opposition from their families and the British and South African governments. Seretse and Ruth defied family, apartheid and empire – their love triumphed over every obstacle flung in their path and in so doing they transformed their nation and inspired the world.