'A Dog's Purpose' Trailer Might Be The Most Unintentionally Creepy Thing You'll See This Week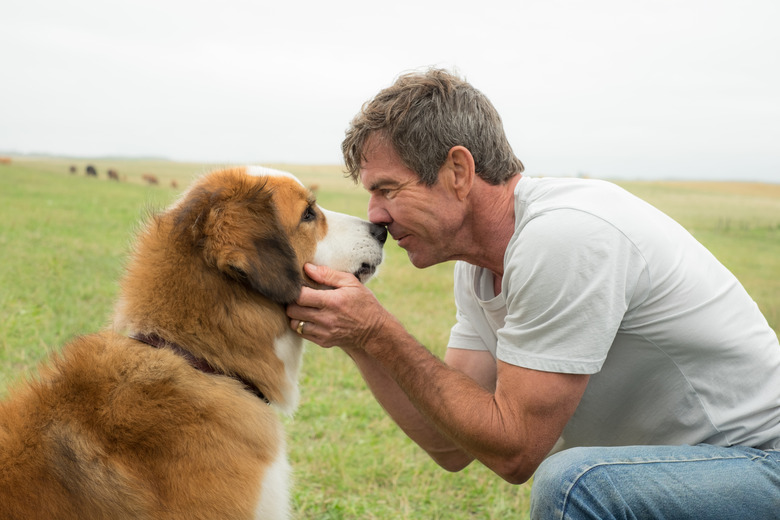 You probably had no idea today was National Dog Day until you signed on to Twitter or Facebook this morning, but no matter — it's as good an excuse as any for Universal Pictures and Amblin Entertainment to drop the first A Dog's Purpose trailer. Josh Gad voices a dog who keeps getting reincarnated and, over the course of his many lives, finds meaning in his relationships with various humans played by Dennis Quaid, K.J. Apa, John Ortiz, and more. Is that cute or creepy? Judge for yourself with the A Dog's Purpose trailer below.
This trailer fills me with existential dread. The dogs themselves are extremely likable, don't get me wrong. (I'm especially enamored of the one who becomes a K-9. Look at those giant ears!) However, there's something rather depressing about the notion of a dog who keeps getting brought back to life so he can spend an eternity in servitude to humans. This dog never seems to want anything for himself; apparently, his only purpose lies in selflessly helping people and occasionally getting a bit of bacon as a reward. Let this poor soul self-actualize so he can rest already.
But hey, I'll be the first to admit I'm more of a cat person anyway. Dog people: is this trailer more cute or creepy?
Directed by Lasse Hallström, A Dog's Purpose arrives in theaters January 27.
Based on the beloved bestselling novel by W. Bruce Cameron, A Dog's Purpose, from director Lasse Hallström (The Cider House Rules, Dear John, The 100-Foot Journey), shares the soulful and surprising story of one devoted dog (voiced by Josh Gad) who finds the meaning of his own existence through the lives of the humans he teaches to laugh and love.  The family film told from the dog's perspective also stars Dennis Quaid, Peggy Lipton, Britt Robertson, K.J. Apa, Juilet Rylance, Luke Kirby, John Ortiz and Pooch Hall.