'Ocean's Eleven' Spinoff Counts In Sarah Paulson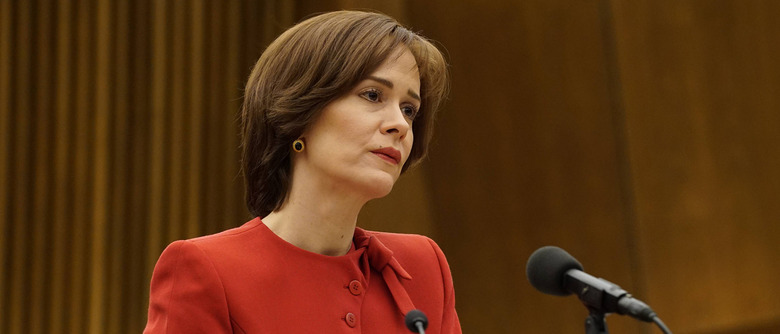 Ocean's Ocho continues to add to its all-star lineup. Along with Sandra Bullock, Cate Blanchett, Rihanna, Anne Hathaway, Helena Bonham Carter, Mindy Kaling, and Awkwafina, Sarah Paulson is now in talks to join the Ocean's Eleven spinoff. Gary Ross is set to direct from a script he wrote with Olivia Milch, while Steven Soderbergh (who directed the 2001 Ocean's Eleven) will produce. 
As previously reported, Ocean's Ocho stars Bullock as the sister of Danny Ocean, George Clooney's character from Soderbergh's Ocean's Eleven. Irresistible charisma and a knack for stealing run in the family, apparently, and she rounds up a team to stage a heist at the Met Gala. Blanchett reportedly plays her right-hand woman (the Brad Pitt role, basically). The other roles have not been revealed. Whoever these actresses end up playing, that's one hell of a cast. Sure, they make for a pretty random combination of names, but that's part of the fun.
Soderbergh, Clooney, and Ocean's Eleven producer Jerry Weintraub had been developing the spinoff for years, but the project stalled when Weintraub passed away. Fortunately, they were able to get it back on track with Ross. Soderbergh remains "deeply" involved with Ocean's Ocho and may even end up in another position behind the scenes — not unlike the way he served as director of photography on Magic Mike XXL, another extension of a film Soderbergh originally directed. Susan Ekins serves as executive producer. Shooting is expected to get underway this fall in New York. No release date has been announced.
Paulson is coming off of an acclaimed performance as Marcia Clark in FX's The People v. O.J. Simpson: American Crime Story, and has been a staple on the network's American Horror Story. She'll next re-team with Crime and Horror executive producer Ryan Murphy for another FX series, Feud. On the film side, her credits include 12 Years a Slave, Carol, and the upcoming J.D. Salinger biopic Rebel in the Rye.