Gorgeous Concept Art Reveals The Genndy Tartakovsky 'Superman' Short That Never Happened

It seems like there's no shortage of stories about abandoned superhero movies, but this one's a little different in that it's an animated short rather than a live-action feature. Back around 2013, Genndy Tartakovsky was planning an animated Superman short. His plans were scrapped, but not before back artist Scott Willis had put together a couple of gorgeous concept art pieces. Check out Willis' work on the Genndy Taratakovsky Superman short below. 
Willis shared the Superman concept art on his blog, CandyCaneLand (via Geek Tyrant). We mentioned the pieces in our recent edition of Superhero Bits, but on second thought felt they deserved more attention. You can see one of the pieces above and the other below; click to enlarge.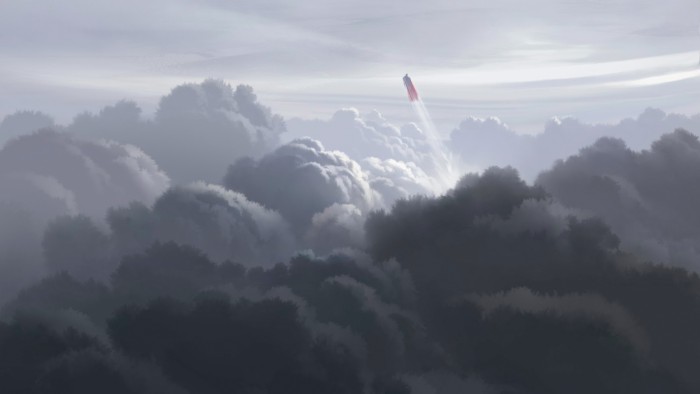 Along with the artwork was this brief note:
Genndy Tartakovsky, Justin Thompson and I were very excited to do our take on an animated Superman but unfortunately it was pulled from us just as we were starting.
Willis indicates that the Superman short would have been for DC Nation, a Cartoon Network programming block that consisted of DC Comics shows and shorts. DC Nation launched in March 2012 but quickly ran into issues. After a summer hiatus, it was abruptly pulled from the fall schedule. It eventually returned in diminished form and kept shedding content until DC Nation was discontinued entirely in 2014. We're guessing the Genndy Tartakovsky Superman short was a casualty of that failed venture.
The two concept art pieces from the Genndy Tartakovsky Superman short look very different. One looks rather bleak, with Superman standing atop a mountain as volcanos spew smoke clouds in the distance. The other looks more peaceful, as Superman skyrockets above the clouds. (And the texture on those clouds looks great.) There's something kind of wistful about them, though it's hard to gauge tone just by looking at a couple of early concept art pieces.
Wills is a frequent collaborator of Tartakovsky's having worked on Sym-Bionic Titan, Samurai Jack, and Star Wars: Clone Wars. Thompson is another artist who has worked with Taratakovsky on Samurai Jack, Star Wars: Clone Wars, and The Powerpuff Girls. While it's a shame we'll never get to see the finished Genndy Tartakovsky Superman short, you can take comfort in knowing that Taratakovsky is now back at work on the revived Samurai Jack.