'Captain Marvel' Director Shortlist Adds Rebecca Thomas [UPDATED]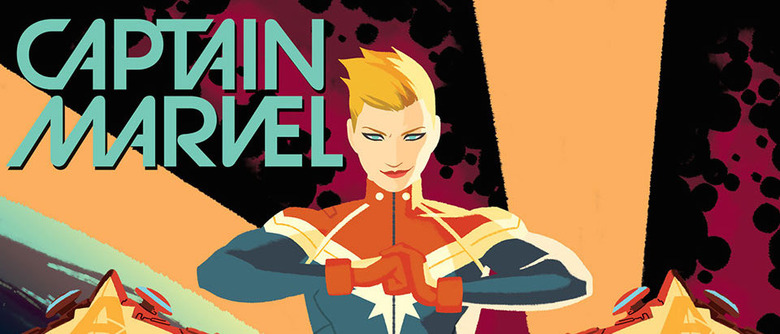 Now that Captain Marvel has its Captain Marvel, it's honing in on a director to bring the superhero to life. Marvel Studios has reportedly whittled down the list of contenders, and emerged with a shortlist that includes Niki Caro (Whale Rider), Lesli Linka Glatter (TV's Homeland and Mad Men), and Lorene Scafaria (Seeking a Friend for the End of the World). However, it may be a while yet before Marvel Studios makes its final decision.
UPDATE: One more contender has emerged for the Captain Marvel directing gig. According to reporter Jeff Sneider, Rebecca Thomas is also in the running. Learn more about her below.The Hollywood Reporter got their hands on the Captain Marvel director shortlist, but caution that the studio is being "very deliberate" with the search. In other words, don't expect an announcement just yet, and don't be surprised if more names crop up before we get there. Among the names that have already been ruled out are Jennifer Kent (The Babadook) and Jennifer Yuh Nelson (Kung Fu Panda 2). Marvel has made it a priority to find a female director for Captain Marvel, the studio's first solo female superhero film.
Caro's name popped up in an earlier report about the Captain Marvel contenders. Her credits include Whale Rider, North Country, and A Heavenly Vintage. She recently teamed with Marvel Studios parent Disney for McFarland, USA. She is coming off of the World War II drama The Zookeeper's Wife, which stars Jessica Chastain and Daniel Brühl and is expected to hit theaters next year.
Scafaria broke out as a screenwriter with Nick and Norah's Infinite Playlist, and then made her directorial debut with 2012's Seeking a Friend for the End of the World. Earlier this year she released her sophomore effort, the indie dramedy The Meddler starring Susan Sarandon and Rose Byrne.
Glatter directed the 1990s childhood classic Now and Then, but she's mostly known for her extensive TV creds. She's directed episodes of Homeland, True Blood, Mad Men (including the episode with the lawn mower), The West Wing, Freaks and Geeks, Twin Peaks, and much, much more. She got an Oscar nomination early in her career for her short film Tales of Meeting and Parting, and is up for an Emmy this fall for directing the Homeland episode "The Tradition of Hospitality."
UPDATE: Thomas made her feature debut with 2012's Electrick Children. She is attached to direct Universal's live-action Little Mermaid, having stepped in after Sofia Coppola walked away.
In the comics, Carol Danvers is an Air Force pilot who gains powers when an explosion results in her DNA absorbing alien genetic material. But writers Nicole Perlman (Guardians of the Galaxy) and Meg LeFauve (Inside Out) have hinted that her backstory could be undergo a "reinvention," so it's unclear which elements of her classic origin they'll keep or discard.
The studio has time to make up their minds on a director, as Captain Marvel isn't scheduled to hit theaters until March 8, 2019. Larson is believed (but not confirmed) to make her debut as Captain Marvel in 2018's Avengers: Infinity War.