'Morgan' Videos: She's Feeling Much Better Now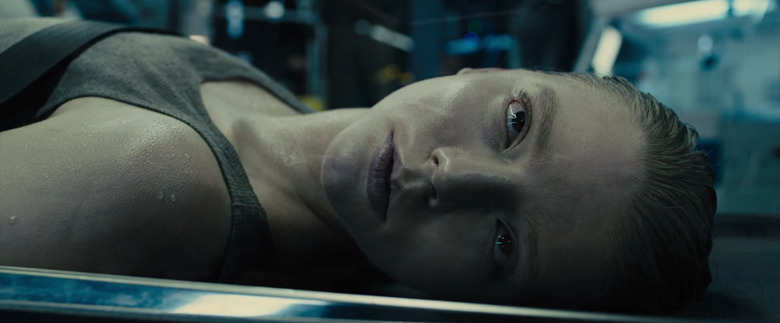 All three of Sir Ridley Scott's children have directed feature films now. The Alien director's oldest son, Jake, has made some great music videos (The Cranberries' "Zombie") throughout his career, and his last picture was the thoughtful drama Welcome to the Rileys. Ridley Scott's daughter, Jordan Scott, directed Cracks, which features an often frightening and heartbreaking performance from Eva Green. Luke Scott, who worked as a second-unit director on The Marian and Exodus: Gods and Kings, has his debut feature-length film, Morgan, coming out shortly.
Below, check out some Morgan videos.
The Ridley Scott-produced horror-thriller stars Kate Mara (The Martian) and Anya Taylor-Joy (The Witch). The film, which was written by Seth W. Owen, is about the creation of the world's most advanced artificial being, and it's corporate risk-management consultant Lee Weathers's (Mara) decision whether to terminate the potentially dangerous titular character.Co-starring in the film are
Co-starring in the film are Paul Giamatti, Jennifer Jason Leigh, Michelle Yeoh, Toby Jones, Rose Leslie, and, an actor who's on the rise, Boyd Holbrook. Owen's script made the Black List in 2014, and it features a few shades of Ex Machina, as Ethan noted in his trailer write up.
Just in time before Morgan's theatrical release next Friday, 20th Century Fox have released some new videos to promote the movie. The first video charts Morgan's journey from being a precious, young, bio-engineered baby to becoming a ruthless killing machine (probably) seeking freedom:
The next video shows more of Morgan's origin story, and she clearly was not the scientists' first attempt at creating artificial life.  Titled "Dear Morgan," this preview is far heavier on spoilers. There are a few shots that probably would be better first to experience in a theater.
These videos, like the first teaser, promise a potentially brutal and breakneck fast horror movie, but it sounds like Luke Scott is aiming a little higher than that. He previously said Morgan is about our "capabilities to become our own creator." That's an idea we've seen often explored in these sorts of movies, but maybe Scott, as a first-time filmmaker, will bring something new and fresh to it. And, if not, based on the trailers and the footage, at the very least maybe we'll get a stylish, tense horror movie with a high-caliber cast.
Here's the official synopsis:
A corporate troubleshooter (Kate Mara) is sent to a remote, top-secret location, where she is to investigate and evaluate a terrifying accident. She learns the event was triggered by a seemingly innocent "human," who presents a mystery of both infinite promise and incalculable danger.
Morgan opens on September 2nd.