'Trick 'R Treat' Sequel Update From Director Michael Dougherty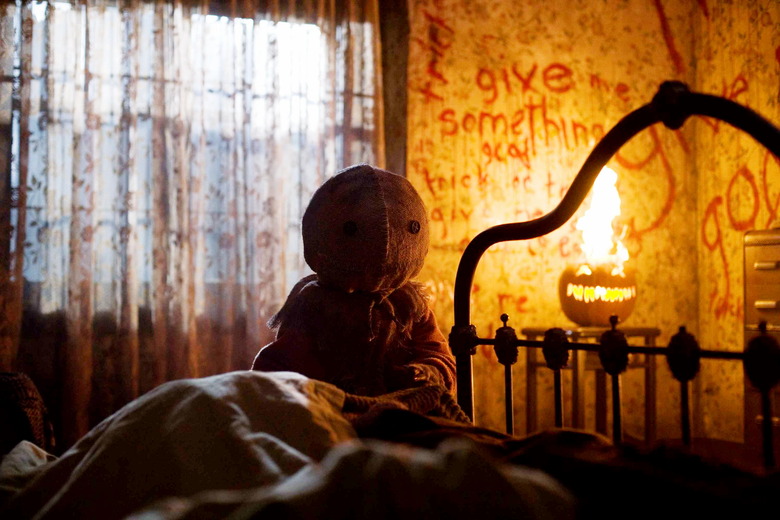 Warner Bros. shelved Michael Dougherty's (Krampus) Trick 'r Treat for far too long. As the horror anthology film sat on the shelf, Dougherty believed his dream of releasing a Trick 'r' Treat movie every year or two was over. Almost three years ago, however, he announced a Trick 'r' Treat sequel. After is directorial debut had found a passionate audience on home video, there was some renewed interest in a sequel, and Dougherty recently told us "Legendary [Pictures] is very committed to making the movie."
Below, get the latest Trick 'r Treat sequel update from Michael Dougherty.
The other day we interviewed Dougherty and Atmos FX's Pete Reichert. The two collaborated on some digital Trick 'r Treat-themed Halloween decorations, these little vignettes of Sam encountering and punishing all sorts of people on Halloween. We'll have more information to share on that soon, but while we were speaking with Reichart and Dougherty, the filmmaker gave us a promising update on Trick 'r Treat 2:
I'm going to speak carefully about that [Laughs], because the moment I utter a word about the sequel, everybody starts salivating. It is very much my intention to make the sequel. Legendary is very committed to making the movie. Creatively, it's in process. When it actually happens, I don't know. But, hopefully, stuff like this — the digital decorations, the comic books, the merchandise, and what have you — will tide people over and I can finally get around to making it. Nothing would make me happier than returning to that universe. Like, I miss Sam. When we were shooting these vignettes, I was getting a little bit emotional because I would love nothing more than to hang out with Sam again for a year or two, bringing him back to the big screen.
Dougherty has previously said the sequel would explore Sam's backstory — although, during our conversation with him, it was evident he wouldn't want to demystify the character completely. When we first heard about the sequel, the director hoped, at the very least, it would lead to a Trick 'r Treat trilogy:
I think it'd be great to make it a trilogy, at least. So fingers crossed. For me, I think every film should explore a different aspect of Halloween. I felt like the first film was the very traditional, suburban Halloween that we all have some memory of. But as I've grown up over the years, I've lived everywhere from Columbus, Ohio to New York to L.A., and I find that the holiday is very different depending on where you live. Or even time periods. I don't see why we should be limited to just present day stories. Halloween is an amazing holiday because it evolves depending on where you live and the time period.
Dougherty wants to shake things up with a Trick 'r Treat 2, possibly by bringing some new monsters into the mix. The first film features werewolves, vampires, and zombies, but a sequel would explore different kinds of monsters, and some of them might be friends of Sam's. We're not sure when we might see Sam and his monstrous pals, but let's all keep our fingers crossed it's sooner rather than later.