Chris O'Dowd Will Star In The 'Get Shorty' TV Series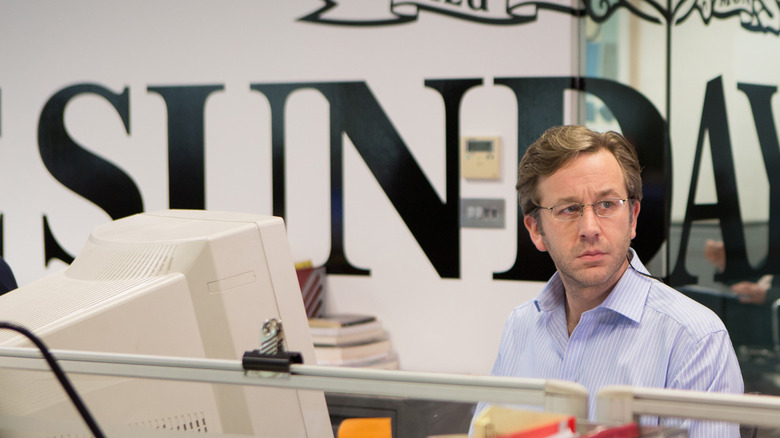 Earlier this summer, EPIX started working on a Get Shorty television show, reportedly based on both Elmore Leonard's novel and Barry Sonnenfeld's excellent adaptation. Unlike the source material and the 1995 film, Ernest "Chili" Palmer isn't the protagonist of this story. EPIX's adaptation centers around Miles Daly, a former member of the Nevada crime syndicate who will be played by Chris O'Dowd (The IT Crowd).
Below, learn more about the Get Shorty TV series.
According to Deadline, O'Dowd is close to finalizing his deal for the "dark comedy," and MGM has ordered a total of 10 episodes for the series. In negotiations to join O'Dowd is Ray Romano, who we recently saw in HBO's Vinyl, which was canceled after one season. If a deal is made, Romano will co-star as a burnt out producer of trashy films; he'd play a version of the character first played by Gene Hackman.
The Get Shorty television show will make some notable departures from Leonard's book, but the core of the story mostly remains the same. Sick of his life in crime and wanting to give a better life to his daughter, Miles Daly decides to become a movie producer, by trying to launder money through a Hollywood production. As his checkered past follows him to Los Angeles, Rick (possibly Romano) guides him through "the maze of Hollywood."
Production on Get Shorty is scheduled to start this fall, with EPIX planning on airing the series next summer. Davey Holmes created the show, which he's also writing and executive producing. Holmes produced the lovely Pushing Daisies, executive produces Showtime's Shameless, and wrote several episodes of HBO's In Treatment. He also did some writing for the short-lived Chicago Code.
We'll next see O'Dowd in Tim Burton's Miss Peregrine's Home for Peculiar Children, although he's been strangely absent from the marketing. The actor has a role in God Particle, the next potential addition to the Cloverfield universe that's currently filming. Moone Boy and The Family Tree were the last two television shows O'Dowd led, and — who could forget? — he starred in The IT Crowd, a show that only gets funnier the more times you watch it. Considering what a charismatic presence the actor is often, he's a good choice to play the lead in Get Shorty. Plus, casting someone that isn't too reminiscent of Travolta's Palmer may help the show carve out an identity of its own.