'Stranger Things' Bits: Eleven's Haircut, SURVIVE's Music, Praise For 'Stranger Things' Moms, And More Cool T-Shirts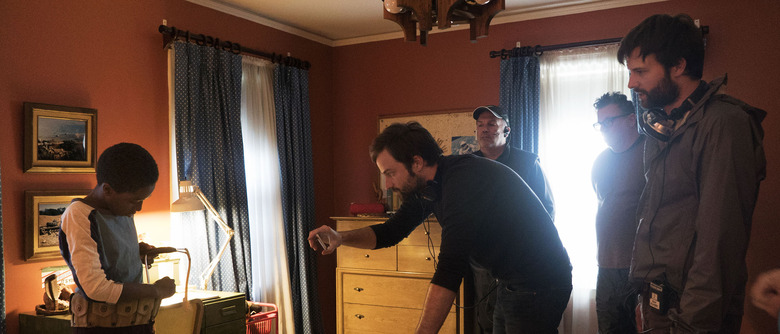 It's been over a month since Netflix dropped Stranger Things on an unsuspecting public, and we still can't stop talking about our new obsession. After the jump:
Watch Millie Bobby Brown get her Eleven haircut.
Cast members take on the 22 Pushup Challenge.
How did Stranger Things get its distinct sound?
And where can you hear more of SURVIVE's incredible music?
Check out some amazing / hilarious Stranger Things cosplay.
A couple of essays praise the girls and women of Stranger Things.
Don't call the Duffers an "overnight sensation."
A fan theory digs into how Eleven and Demogorgon might be connected.
Show your Stranger Things love with a couple of cool t-shirts.
Millie Bobby Brown has previously talked about how the Duffers got her to agree to Eleven's signature buzz cut. Now you can see the transition for yourself. The actress shared a video of herself losing her long brown locks for the role, all set to Beyoncé's "Pretty Hurts" because everything is better with Beyoncé. Watch the video above or just take this tweet straight to your hairdresser so you can steal her style.
In other "Stranger Things cast members being just the best" news, a couple of the young stars have tackled the "22 Pushup Challenge" going around social media. The campaign is intended to raise awareness of the tragic statistic that 22 veterans commit suicide every day. Brown does hers on the beach, as you can see above, while her co-star Finn Wolfhard gets his done in a comfy hotel room.
Stranger Things gets a lot of praise for looking great, but it sounds great, too. In an in-depth interview, supervising sound editor Brad North and sound designer Craig Henighan go deep on how the aural environment of the show was created. Among other things, they discuss how their collaboration with SURVIVE, the Austin-based band that does the Stranger Things score, and how the sound effects were created for different elements of the show like Joyce's Christmas lights, the Entity (a.k.a. the Demogorgon), the Rift, and the Upside Down.
To give you a taste, here's Henighan explaining his sound design for the Entity:
I wanted to come up with something similar to Predator, in terms of having an identifiable vocal, because initially you don't see the Entity. I wanted it to sonically evoke creepiness and intellect. In all of my recordings, I didn't quite find what I wanted, but then I started looking through my libraries. I have to give credit to Tim Prebble, who runs Hiss and Roar out of New Zealand. It's a great boutique sound design/sound effects library. Years ago I bought his seal recordings, and in there I heard a few things that I felt I could use as the hook. I took that seal vocal, and tried to pitch it and mask it, and put a lot of sounds in there so that people wouldn't really know where it came from. But then I went back to pitching the seal vocals just a little bit, and shortening the length of it. In a cool kind of way, it's really simple and effective, and to the point. That's the core sound of the Entity.
When we get into the flesh, I recorded splatty sounds of water hitting flour, and other splats. I also used some great stuff from Boom Library and my good friend Rob Nokes has done a lot of specific recordings for me over the years. I had other fleshy movement sounds and door squeaks, rubber yoga ball creaks. I did some dry ice recordings that are part of the Entity's bigger roars and screams.
For more where that came from, click over to A Sound Effect.
If all that talk of Stranger Things' amazing sound has you eager to revisit SURVIVE's score, you're in luck. The second half of the soundtrack is now online, and you can listen above.
Still hankering for more from SURVIVE? You may be interested to learn that the band is going on a U.S. tour this fall, in support of their new album, RR7349. You can hear a track from it above, and get dates and venues on their Facebook page.
We're definitely going to see tons of Eleven cosplay going forward, and maybe some Demogorgon cosplay from those whose tastes run a bit creepier and more ambitious. But these GenCon attendees got creative. The old-fashioned phone is a nice touch, but these guys get extra credit for the Christmas light alphabet. [Reddit via Uproxx]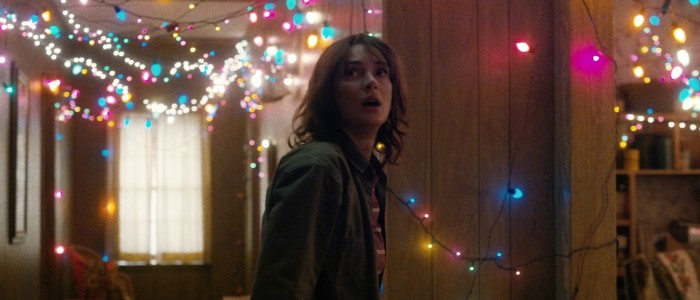 Speaking of which, writer Kia Groom has some thoughts on how Joyce, and the other female characters of Stranger Things, subvert gender tropes:
Joyce Byers, as the mother of missing boy Will, is given an unprecedented amount of screen time, centralizing the narrative of maternal grief in a way few (if any) genre films of the time ever did. Really, Stranger Things is Joyce's story: Will's disappearance sets the plot in motion, and Joyce's unflinching resolve to get him back propels it forward. But Joyce is so much more than a plot device. Played expertly by a frantic, harried Winona Ryder, Joyce's breakdown is personal, alarming, and disturbing. Some critics have called it "hysterical"—in the pejorative sense—which is telling in and of itself.
Read Groom's entire essay at The Mary Sue.
And actually, while we're on the topic, Donna Dickens is singing the praises of Stranger Things' other mother, Karen Wheeler (played by Cara Buono):
It is this same scene that opens another window in the soul of Karen Wheeler. Like most kids, Nancy and Mike (Finn Wolfhard) think of their parents almost as Greek gods. They sprung forth fully-formed, having no existence prior to the titles of 'mom' and 'dad.' Neither is old enough yet to have had the epiphany that parents are people too. But the audience can see it. Karen is well-aware of what is unfolding between her daughter and the Harrington boy. But instead of parental admonishment, Mrs. Wheeler goes the (television) road less traveled: understanding.
Join Dickens in her Karen Wheeler lovefest at HitFix.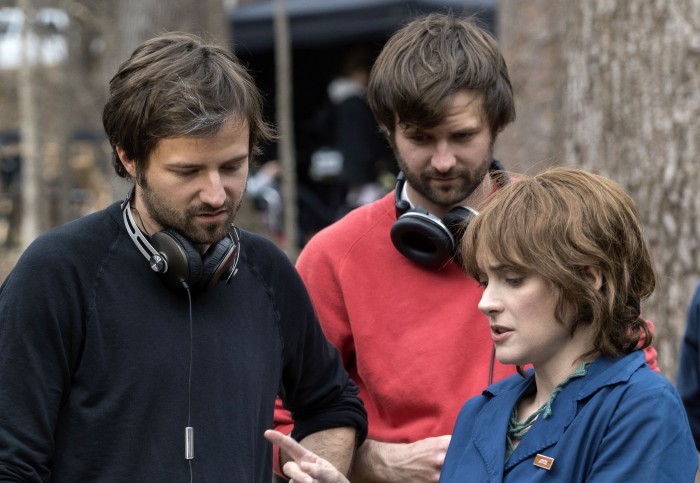 Stranger Things may be the first time most of us have heard of Matt and Ross Duffer, but they didn't come out of nowhere. We've looked at some of their past work here before, and now Jeff Sneider digs even deeper into their personal journey.
Despite their background in shorts, the Duffers struggled to get a feature off the ground. Agency insiders claim they were young victims of the writer's strike — which led to an economic downswing in Hollywood — who might have sold several spec scripts fresh out of film school and armed with a strong short that demonstrated their storytelling abilities. "They were shit out of luck," said one longtime dealmaker, more or less referring to anyone who joined the depleted workforce upon graduating from film school around 2007-08.
Read the story of how the Duffers took ten years to become "overnight sensations" at Mashable.
Eleven is one of Stranger Things' most mysterious characters, and arguably the Demogorgon is the other. So could it be that in fact, they're one and the same? That's the theory floated in this video from HitFix: "What if instead of sending herself outward, to another dimension, she actually went inward, into her own consciousness?" Among other things, the narrator points out that El actually says the words, "I am the monster." Poignant metaphor or literal confession? Watch the video above and decide for yourself.
Why wait to tell people about your Stranger Things obsession when you can let them know without even opening your mouth? Neatoshop has a couple of cool t-shirts for fans who want to share their love with the world. Personally, I prefer the one of just the kids' names — the upside-down "Will" is a clever touch — but the other one may appeal to those of you who prefer a more elaborate design.