Alan Tudyk Discusses K-2SO's Backstory In 'Rogue One: A Star Wars Story'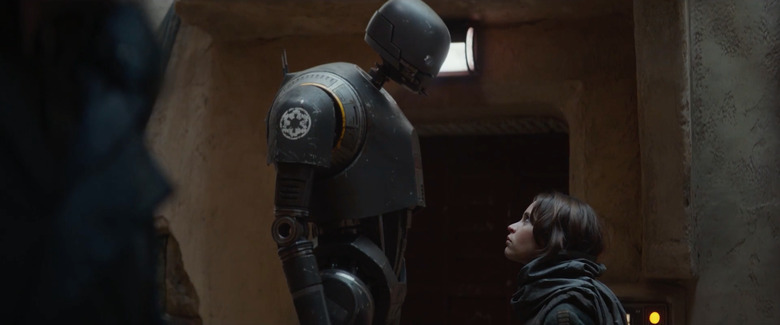 Alan Tudyk was a welcome addition to the Star Wars universe. Most of us know the very talented and very likable actor from Firefly, Wreck-it Ralph, A Knight's Tale, Death at a Funeral, and other fine titles, but with Rogue One: A Star Wars Story, we'll soon see him in (probably) his biggest movie to date. We've already learned a little bit about his character, K-2SO, but Tudyk recently shared more information about his droid.
Below, learn more about the K-2SO backstory.
Alan Tudyk already has some experience with motion-capture. The actor played Sonny in I, Robot, giving a memorable performance as a conflicted piece of artificial intelligence. K-2SO is presumably a less conflicted robot, but Tudyk once again, as he told Star Wars.com, wanted to humanize his robotic character (referred to as "Kaytoo"), by making him too honest. The actor discussed with the outlet the droid's backstory and his approach to the role:
Kaytoo was formerly an Imperial droid, so he used to be on the other side. He was a security droid and then Cassian, Diego Luna's character, who owns Kaytoo, has done a memory wipe and reprograms Kaytoo to be a Rebel with the Alliance. Through that process, Kaytoo's personality changes. I approached it as if he were freed, almost like a governor on an engine that holds the personality back. The Empire was much more of a regimented world where you're much more forced to be in servitude of the Empire, which historically is the case. When he is reprogrammed, his personality comes out, which is a bit odd.
At Star Wars Celebration Europe, they showed a little bit of a clip of him. There was no sound to it; I narrated it. You see Felicity Jones' character hand me a bag, and she and Diego Luna's character walk off. And I stand there holding the bag for just a moment, and I just drop it, because I'm not into holding her bag. [Laughs] C-3PO would definitely hold the bag and watch over it. Kaytoo is maybe a bit too honest. At that moment, he's willful. It makes him a really fun character. For me, it made him much more human. I was very free to act within the confines of the script, but there were a lot of moments I could find, especially with such good actors, to express and be the unique character that Kaytoo is.
Tudyk is certainly surrounded by good actors in Rogue One, including Felicity Jones, Forest Whitaker, Ben Mendelsohn, and Mads Mikkelsen, to name a few. Hopefully what Tudyk had to say about K-2SO comes across in the film, because he made Kaytoo sound like a slightly more nuanced droid. The transformation from Imperial droid to Rebel droid most likely occurs before the events of this Star Wars Story, but we'll see in a few months how large of a role it plays in K-2SO's journey to help destroy the plans for the Death Star with Jyn Erso (Jones) and her rebel crew.
Rogue One: A Star Wars Story opens in theaters December 16th.