Marvel's Black Female Iron Man Shall Henceforth Be Known As Ironheart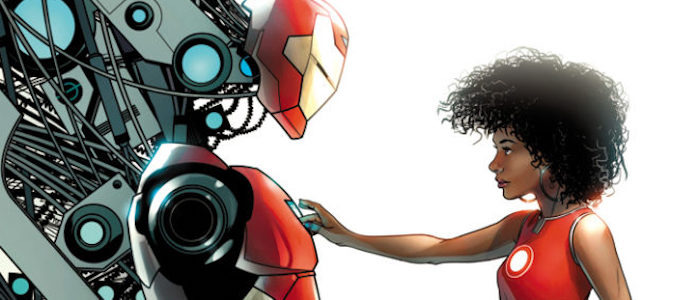 Last month, Marvel Comics announced a brand-new Iron Man in the form of Riri Williams, a teenage prodigy who reverse-engineered her own suit of high-tech armor in her dorm room at MIT. Now we've learned that the new Iron Man will boast a new Iron moniker. As revealed by writer Brian Michael Bendis, Riri Williams will henceforth be known as Ironheart. Because "Iron Maiden" was too much of a legal headache. 
Wired got the scoop straight from Bendis himself. The writer explains:
Iron Woman seemed old-fashioned to some. Iron Maiden looked like a legal nightmare. And Ironheart, coined by Joe Quesada, after I told him my planned story for Riri, speaks not only to the soul of the character but to the Iron Man franchise as a whole. Tony first put on the armor to save his heart. Riri puts it on for different reasons altogether but still heart-related. When people see her story, you'll be amazed at how simple and brilliant Joe's suggestion was.
Riri Williams a.k.a. Ironheart made her debut earlier this year in an issue of Invincible Iron Man. Her activities caught the attention of one Tony Stark, who gave her his blessing to take over as the next Iron Man. Riri officially steps into the role this November in the relaunched Invincible Iron Man #1, written by Bendis and drawn by Stefano Caselli.
Even as Ironheart takes over as the new Iron Man, though, fans of the old Iron Man needn't despair, as he'll be sticking around in spirit. An Iron Man suit needs its in-armor A.I., and Ironheart's will be based on Tony Stark's personality. "Regardless of where he might be physically, he'll be soaring along with her spiritually," said editor Tom Breevort.
Historically, most of Marvel Comics' marquee superheroes have been white guys. But in recent years the publisher has made a concentrated push toward inclusivity, introducing characters like Kamala Khan (Ms. Marvel) and Miles Morales (Spider-Man) and promoting existing characters like Jane Foster (Thor), Sam Williams (Captain America), and Amadeus Cho (Hulk).
Marvel's efforts extend beyond the scenes as well. Shortly after the Riri Williams announcement last month, the company additionally announced its first black female writers, Roxane Gay and Yona Harvey for Black Panther: World of Wakanda. While it's kind of mind-boggling that it took Marvel until 2016 to hire its first black woman author, it's great to see they're now working toward better diversity on and off the page.