Fox Rejected 'Idiocracy' Director's "Anti-Trump" President Camacho Ads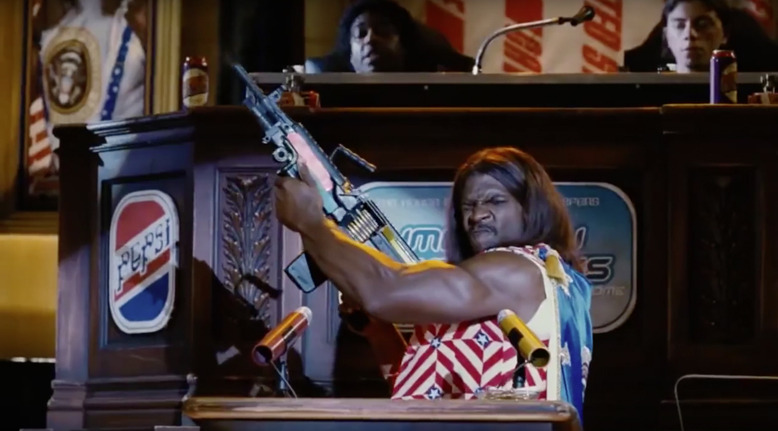 For a few years now, writer-director Mike Judge and Terry Crews have talked about doing more with Idiocracy's President Camacho. Of course fans of the 2006 cult comedy are more than happy to see Crews return to the role, and we've seen him do so in a few Funny or Die videos. Crews and Judge were at one point discussing future opportunities for Camacho with Fox, and earlier this summer it was reported they were working on campaign ads for Camacho. But sadly, Fox has pulled the plug on the whole project.
Below, learn more about the cancelled President Camacho Ads.
When the ads were first written about, they were described as "anti-Donald Trump." Even though they dumped the movie, Idiocracy is still a 20th Century Fox film, and Fox — a company owned by Rupert Murdoch, a Trump supporter — didn't sign off on the Camacho ads.
Here's what Judge told The Daily Beast about what happened:
It kind of fell apart. It was announced that they were anti-Trump, and I would've preferred to make them and then have the people decide. Terry Crews had wanted to just make some funny Camacho ads, and Etan [Cohen] and I had written a few that I thought were pretty funny, and it just fell apart. I wanted to put them out a little more quietly and let them go viral, rather than people announcing we're making anti-Trump ads. Just let them be funny first. Doing something satirical like that is better if you just don't say, 'Here we come with the anti-Trump ads!
After screenwriter Etan Cohen (Tropic Thunder) tweeted he couldn't believe how close reality was beginning to resemble Idiocracy, especially in light of Trump's presidential campaign, he reached out to Judge about making these Camacho advertisements. Judge joked that, despite Fox probably forgetting they own Idiocracy, they still wouldn't approve the ads. When The Daily Beast's interviewer mentioned Murdoch's support of Trump, he replied, "There was a roadblock there, too."
Putting the disappointment of no President Camacho advertisements aside, Judge, like Cohen and maybe a lot of the film's fans, is both surprised and a little frightened by how fast the world is catching up with Idiocracy's bleak future:
Three or four years ago, I started getting comments about it, people discovering it, and it just keeps building. Now every other Twitter comment I get is about Idiocracy, and how it's a documentary now. At first, I was just thinking, yeah, that's nice to hear, but then very specific things, like Carl's Jr. announcing that they were going to have a completely robotic, non-employee store—and it's Carl's Jr. in the movie. Then there's this thing called the Fellatio Café in Switzerland where you get blowjobs with coffee, and we had the Starbucks thing in there. And then Donald Trump being in the WWF before, and talking about his penis size. It's just one specific thing after another!
Judge half-joked he didn't want Idiocracy to become more famous "by the world getting stupider faster." We all know that's not the main reason why the film has gained an audience over the years, though. It's picked up in popularity because it's just exceptionally funny and, as recent events have shown us, not without some truth. We may not see any President Camacho campaign ads in the near future, which is unfortunate, but maybe we can still hold on to some hope for an anniversary tour.