'Mission: Impossible 6' Halts Pre-Production Because Everybody Wants More Money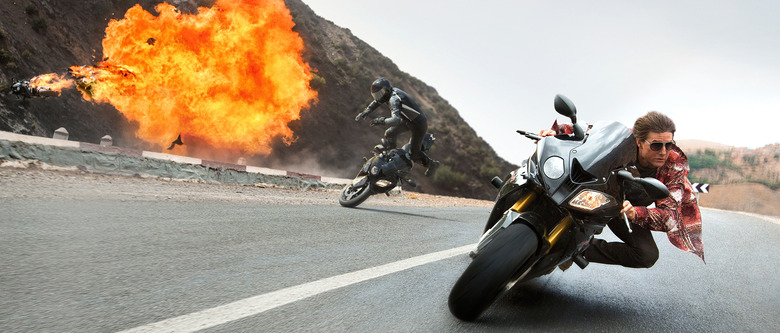 Ethan Hunt's next death-defying adventure has hit a bit of a speed bump. Paramount Pictures has reportedly pumped the brakes on Mission: Impossible 6, which has Tom Cruise returning to star and Chris McQuarrie back to direct. But there's no need to panic yet: shooting isn't even underway on the film, and there's a good chance both sides will work something out before the entire thing has to be pushed back. 
As you probably could've guessed, the Mission: Impossible 6 delay comes down to money. According to Deadline, Paramount is balking at the fees that Cruise and producers Bad Robot and Skydance are asking for, and is trying to convince them to cut them down. The studio wants to give Cruise around what he made for Rogue Nation, while Cruise wants a salary more in line with his bigger payday for Universal's The Mummy. Production on Mission: Impossible 6 isn't scheduled to begin until next year, so there's still some wiggle room for these negotiations.
Mission: Impossible 6 is still in the early stages. McQuarrie has just begun writing the script, and the studio has hired a handful of people in London to start designing the visual effects. (Those people are now sitting and waiting while Paramount and Cruise figure things out.) But this isn't even the first rough patch for Mission: Impossible 6. THR adds that in July, the project threatened to fall apart over script issues. It eventually got back on track, but not before forcing the start date to move from November 2016 to January 2017.
Still, there's little risk of Paramount and Cruise being unable to reach a common ground. Mission: Impossible is one of the studio's signature franchises and the last installment, 2015's Rogue Nation, made a staggering $682 million. Which means Paramount definitely wants to make a sequel. And there's no making a sequel without Cruise, since those half-assed plans to position Jeremy Renner as the new lead never panned out.
Paramount has not announced a release date for Mission: Impossible 6, but we're probably looking at 2018, or maybe late 2017 at the earliest.