'War Dogs' Almost Starred Shia LaBeouf And Jesse Eisenberg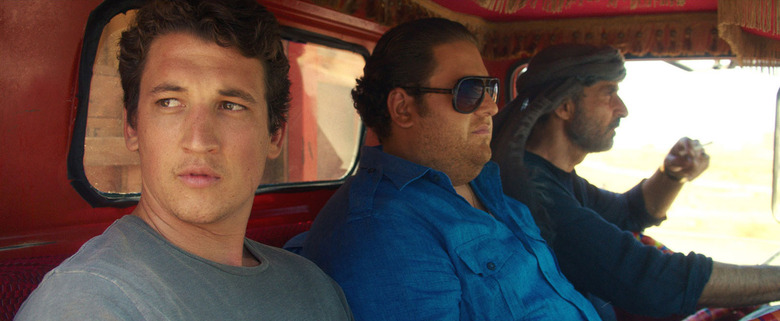 Todd Phillips' War Dogs might become one of the summer's few pleasant surprises. Critics are somewhat mixed on the film, but the reviews are far more positive than what we read for The Hangover sequels, and they're about on par with the reviews for Phillips' Old School, Starsky & Hutch, and Road Trip, his more well-liked movies. Jonah Hill is receiving praise for his performance as obnoxious gunrunner Efraim Diveroli, but originally, Shia LaBeouf was going to play the character.
Below, find out why LaBeouf and Jesse Eisenberg didn't lead the War Dogs cast.
Hill and Miles Teller star in War Dogs (a true story originally titled Arms and Dudes), but they weren't the first actors cast. Hill, in fact, turned down the lead role. The script — which Phillips, Stephen Chin, and Jason Smilovic worked on — was written with The Wolf of Wall Street actor in mind, so after Eisenberg and LaBeouf fell off the project, it all ended up working out, according to Phillips (Source: Cinemablend):
Just to speak to that first part, [Jesse Eisenberg and Shia LaBeouf] were attached for a moment, and then we ended up pushing the movie an entire year and both guys became unavailable. And to speak to that further, and they both know this, we wrote the script for Jonah. When I first went to Jonah, before we pushed the movie, Jonah actually turned it down. I then cast it with [Eisenberg and LaBeouf], then we pushed the movie a year for production reasons and that's when they became unavailable.
Two months before shooting, Teller wasn't a sure thing for the role of David Packouz, either. He had a scheduling conflict of some sort, but his schedule freed up and the day after the Academy Awards, where he was supporting Whiplash, he flew to Romania to begin filming War Dogs. Another actor that maybe didn't almost appear in Phillips' film but auditioned for it is late night comedy host James Corden.
When Phillips and War Dogs co-star Bradley Cooper appeared as guests on his show the other night, the host showed a clip from his audition with Shia LaBeouf and told a brief story about the experience (via THR):
So I'm all due to read, I'm in New York, I'm learning lines all night, and then I get this message, 'I don't know if it's gonna happen tomorrow, Shia LaBeouf's in jail.'
This was when the actor was jailed for disrupting a Broadway performance of Cabaret. During the audition, for some reason, LaBeouf wore his shoelaces on his face. Recalling this choice of LaBeouf's, Phillips said:
They take your shoelaces away in prison because they're afraid you're going to kill yourself, I suppose. So he was carrying his shoelaces, and for some reason he put them on his face because he was being weird and wanted to throw you off a little bit.
Corden actually had fun with the experience. As for Eisenberg and LaBeouf, they'd be easy to imagine in War Dogs. Obviously, they'd bring something different to the roles and the film — they're not all that similar to Teller and Hill — but in the end, Phillips got the actors he wanted. We'll see how audiences respond to Hill and Teller in Phillips' dark comedy this weekend.
War Dogs opens in theaters August 19th.