Natalie Portman Is "Done" With The Marvel Cinematic Universe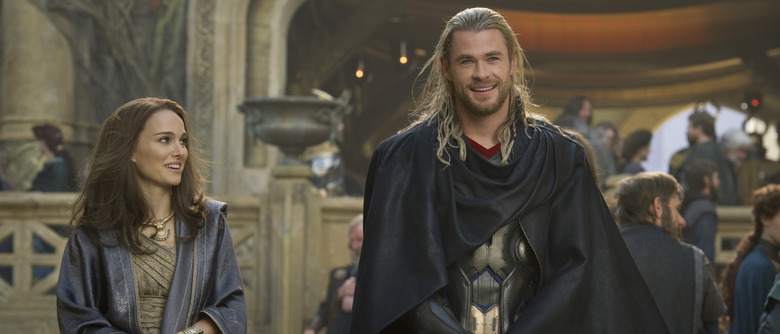 Natalie Portman has been part of the Marvel Cinematic Universe since the early days, first appearing in 2011's Thor to woo the Norse God as astrophysicist Jane Foster and returning for 2013's Thor: The Dark World. But she's sitting out next year's Thor: Ragnarok, with Tessa Thompson's Valkyrie stepping up as the new female lead, and it doesn't sound like Portman will be returning for Avengers: Infinity War either. According to the Oscar-winning actress, she's "done" with the Marvel universe. The Wall Street Journal sat down with Portman, who confirmed she is not in Thor: Ragnarok and then indicated that she will not be part of the Marvel universe at all going forward.
As far as I know, I'm done. I mean, I don't know if maybe one day they'll ask for an Avengers 7 or whatever, I have no idea. But as far as I know, I'm done. It was a great thing to be a part of.
Earlier this year, Marvel Studios' Kevin Feige stated that there were "many reasons" Portman would not appear in Thor: Ragnarok, including the fact that "there are only a couple of scenes on Earth in this movie; 80 to 90 percent takes place in the cosmos." But if Portman's out of the MCU for good, it sounds like the reasons for her exit go beyond a simple change of setting.
That said, as Portman points out, it's always possible she'll get looped back in for a future installment. As long as Jane Foster continues to exist within the Marvel Cinematic Universe, we can't completely rule it out. Especially since it sounds like the parting was amicable. Or at the very least that both she and Marvel are professional enough to make it sound amicable when discussing it in public.
Although Portman has been the female lead of the Thor movies since Phase One, she's never been all that central to the Marvel cinematic universe as a whole. Jane Foster was mentioned in Avengers and Avengers: Age of Ultron but did not appear in either, and she hasn't cameoed in any of the other non-Thor Marvel movies either. I'm a huge fan of Portman's, but I can't say I'm all that sad to see her leave this particular role behind. The talented and charismatic Thompson seems more than capable of succeeding Portman as Thor's new leading lady.
Meanwhile, though we've likely seen the last of Jane Foster, we can look forward to seeing plenty more of Portman. Her upcoming credits include her own feature directing debut, A Tale of Love and Darkness, plus Jackie Kennedy biopic, Xavier Dolan's The Death and Life of John F. Donovan, and Alex Garland's Annihilation (which coincidentally stars Thompson as well).