Amazon Gives Series Order To 'Jack Ryan' Starring John Krasinski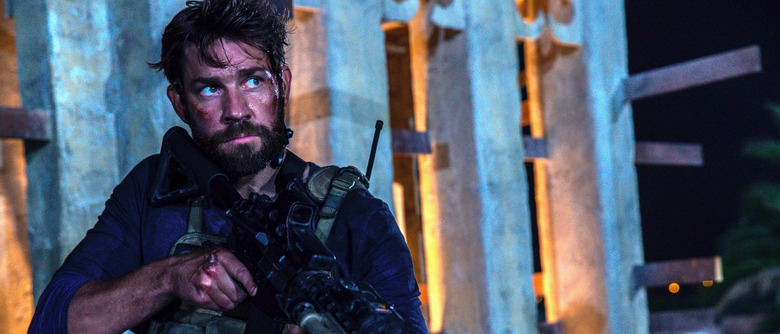 Jack Ryan lives again. Last fall, Amazon put into development a Jack Ryan TV series based on Tom Clancy's bestselling series of books, and this past spring John Krasinski was confirmed for the lead role. Now they've ordered a 10-episode first season for the show, which hails from Carlton Cuse and Graham Roland. The plan was always for Jack Ryan to bypass Amazon's usual pilot season and go straight to series, but this makes it official. 
Amazon's hourlong action drama is billed as a "reinvention" of the franchise, picking up with a young Jack Ryan in the modern day. According to Variety, Krasinski's Jack Ryan is "an up-and-coming CIA analyst, who is thrust into a dangerous field assignment for the first time. He uncovers a pattern in terrorist communication that launches him into the center of a dangerous gambit with a new breed of terrorism that threatens destruction on a global scale."
Jack Ryan was first introduced in Clancy's 1984 novel The Hunt for Red October, and has since reappeared in several more books. The Jack Ryan novels have inspired five films so far, with four different actors playing the character: Alec Baldwin (The Hunt for Red October), Harrison Ford (Patriot Games, Clear and Present Danger), Ben Affleck (The Sum of All Fears), and Chris Pine (Jack Ryan: Shadow Recruit). However, the Amazon project will be the first Jack Ryan TV series.
Recently, Cuse told /Film that the Jack Ryan TV series had begun as a new adaptation of Clear and Present Danger, before he and his team realized the premise felt outdated. "It really led to this revelation that the thing that defined Tom Clancy was that his thrillers were very much geopolitical thrillers of the moment. They really tapped into something that was going on in the world, so we're doing an ISIS/ISIL type story," he said. "It feels very much connected to what's happening in the world right now." To that end, the Jack Ryan TV series will tell "a wholly original story."
Paramount, who was behind all of the Jack Ryan movies, is producing the Jack Ryan TV series with Skydance Television. Michael Bay, Brad Fuller, Andrew Form, David Ellison, Dana Goldberg, Marcy Ross, Mace Neufeld, and Lindsey Springer are all serving as executive producers.
Krasinski, who is still best known for NBC's The Office, may not have seemed like the most obvious choice to play Jack Ryan a year ago. But this winter's 13 Hours demonstrated that he has what it takes to play an action hero. His other recent credits include the Sundance dramedy The Hollars (which he also directed), and Cameron Crowe's Aloha. Below, watch Krasinski getting into shape while also hanging out with his adorable dog and raising awareness for veteran's issues.
#22PushupChallenge @ChrisEvans @Miles_Teller @rise_movement @prattprattpratt #Veterans #NeverStopSayingThankYou pic.twitter.com/81JS7Z6joS

— John Krasinski (@johnkrasinski) August 15, 2016