Benicio Del Toro Reprises His 'Guardians Of The Galaxy' Role As The Collector, But For Which Movie?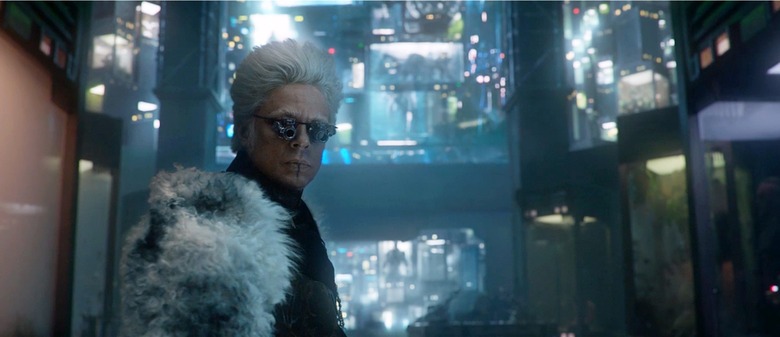 The Daily Mail spotted Benicio Del Toro sporting what appears to be the hairpiece he wore for his role as Taneleer Tivan aka The Collector from Marvel's Guardians of the Galaxy. According to the British newspaper, Del Toro was filming scenes for James Gunn's Guardians of the Galaxy Vol 2 in Los Angeles. Is The Collector in Guardians of the Galaxy 2? I don't believe this to be the case.
Benicio del Toro sports shocking white hair as he films Guardians of the Galaxy Vol 2 in LA https://t.co/MyMxhobwvb pic.twitter.com/cPI41ll2Sk

— Daily Mail Celebrity (@DailyMailCeleb) August 13, 2016
Is The Collector in Guardians of the Galaxy 2?
You can see the set photos of Benicio Del Toro walking around in his Guardians hairpiece over on The Daily Mail website. It would be very surprising if Benicio del Toro is filming an appearance in Guardians of the Galaxy Vol 2 as filming for the sequel has already concluded in Atlanta.
Last year, Del Toro said that he didn't think he would be playing the character in the sequel. He told IGN that he had not been contacted about appearing in the sequel, although he is very excited about the prospect of expanding his role in the Marvel Cinematic Universe:
I would like to keep working on that character, though. It was kind of like a cameo. I would like to keep developing the character based on what's written in the comic books. I'd like to see some different sides. I had a blast working with James Gunn and the cast – but it's not up to me.
In October 2015, actress Zoe Saldana shared on Facebook that we will indeed see The Collector in Volume 2. Writer/director James Gunn later (October 2015) publicly denied this claim, stating that The Collector "just didn't fit into Volume 2."
So who is telling the truth? Is it possible that Benicio del Toro will appear in Guardians of the Galaxy Vol 2 as a secret cameo? Maybe in an after-credits scene perhaps? I don't think so. I've heard that James Gunn was busy last week on the set of brief reshoots for The Belko Experiment, a film which he wrote and produced. That's not to say he couldn't have piggybacked studio time for an extra Guardians Vol 2 scene, but I just don't think this is the case.
It's also unlikely that Del Toro was filming a scene as The Collector for Thor: Ragnarok or Spider-Man: Homecoming – those films are currently shooting in Australia and Atlanta respectively, and not Los Angeles. And The Avengers: Infinity War has yet to begin principal photography, which is expected to happen later this year.
So what project was Benicio del Toro filming last week? I think the most likely prospect is Guardians of the Galaxy – Mission: BREAKOUT!, a new ride at Disney California Adventure which will replace Tower of Terror in Summer 2017.
The announcement of the new attraction was made at San Diego Comic-Con International 2016, where it was revealed that the new ride would be set inside The Collector's museum.
He has opened his unique collection of fauna, relics and species to guests for a special tour culminating with his latest prized possessions: the Guardians of the Galaxy, themselves! ... One member of the group, the intrepid Rocket, has escaped, and he calls upon brave visitors for help. Guests board a gantry lift which launches them into a daring adventure as they join Rocket in an attempt to set free his fellow Guardians.
It was even confirmed at the convention that Benicio Del Toro would be reprising his role as The Collector for the attraction. In San Diego, we were shown behind the scenes greenscreen footage of new scenes being shot for the new ride, which was probably filmed alongside principal photography of the sequel in Atlanta. It's probable that Del Toro was not able to film his part during this shoot due to a schedule conflict with Star Wars Episode 8, resulting in him filming his segments back in Los Angeles at a later date.