'Jessica Jones' Season 2 Could Have Multiple Villains; 'Punisher' Might Arrive In 2017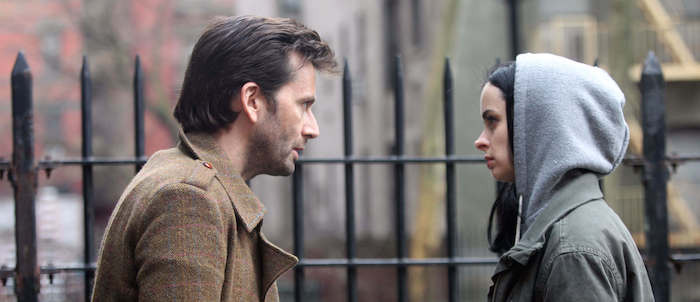 We know what the immediate future of Netflix's Marvel universe holds: the premiere of Luke Cage on September 30. But what about beyond that? What's next for our favorite ground-level superheroes, and when might the next Netflix-Marvel seasons launch? Well, Netflix isn't saying too much yet, but recently showrunner Melissa Rosenberg teased what's in store for Jessica Jones season 2. Meanwhile, Netflix itself may have accidentally dropped a clue about when the Punisher series will hit. 
We've known for some time that Luke Cage would be followed by Iron Fist and then The Defenders. Last month, Netflix confirmed that Jessica Jones season 2 would not premiere until after The Defenders. Nevertheless, Entertainment Weekly got a head start on digging for clues, sitting down with Rosenberg to pump her for information.
Among other things, Rosenberg confirmed that the next run of episodes would dig deeper into the friendship between Jessica (Krysten Ritter) and Trish (Rachael Taylor). "That is the core relationship in the piece," she said. "It is about female friendship, it is about how friends evolve — they're sisters, really — and it's about how they evolve and ping off each other. I'm interested in relationships, whether they be romantic, or family, or friends, or professional — that's what's interesting to me, is Jessica in relationship to people."
But things really got interesting when the publication asked Rosenberg how she planned to top David Tennant's Kilgrave with a new antagonist. Her response:
Or antagonists, plural. No one is ever going to beat David Tennant as Kilgrave, so you don't do that. The biggest mistake would be to try to repeat that. You just go, "OK, we're not doing that, so we have this open to us."
Naturally, Rosenberg declined to say whom the "antagonists, plural" might be. One obvious possibility is Will Simpson, who was played by Wil Traval in season one. The character's relationship with Jessica has been complicated, but by the end of the first season it sure looked like he was following his comic book counterpart into bad-guy territory. Or maybe the word "antagonist" suggests we're in for something more like the Daredevil / Punisher arc, where Jessica finds herself up against a different sort of hero or antihero, rather than a straightforward supervillain.
Oh, and speaking of the Punisher: if you've been wondering when we'll see more of Jon Bernthal's Frank Castle, we may have some good news. Back in April, Netflix officially ordered a Punisher spinoff after Bernthal's character proved a huge hit with fans on Daredevil season 2. As of now, though, the company has yet to say when the Punisher series will launch. And with both Iron Fist and The Defenders slated for next year, we figured 2018 was the most likely premiere date for Punisher.
However, a Redditor posted a screenshot (via Heroic Hollywood) of the Netflix app which shows "2017" as the Punisher premiere date, along with this very brief and vague synopsis: "After the murder of his family, Frank Castle is both haunted and hunted. In the criminal underworld, he'll become known as The Punisher."
Now, the Punisher 2017 release date could just be an error. And even if the show is coming in 2017, it likely won't be until late in the year. As we said above, Netflix will drop Iron Fist and The Defenders first. But if it's accurate, it suggests Netflix plans to ramp up its Marvel release schedule. So far, we've gotten two seasons per year — Daredevil season 1 and Jessica Jones season 1 in 2015, Daredevil season 2 and Luke Cage season 1 in 2016 — but with six different Marvel titles in their stable now, it'd make sense for the company to start picking up the pace.