Why 'Penny Dreadful' Ended With Season Three [TCA 2016]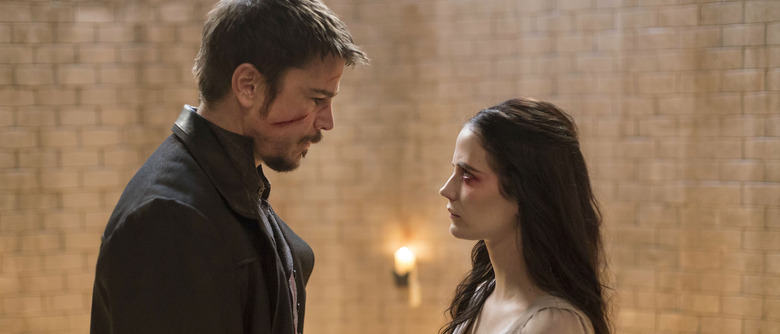 Fans of Penny Dreadful were surprised that the show's third season became its last. During their executive session with the Television Critics Association, Showtime Networks, Inc. President and CEO David Nevins and President of Programming Gary Levine discussed their conversations with Penny Dreadful creator John Logan about potentially continuing the series, and why they did not succeed. Spoilers for the third season follow. 
"I think in his mind, it was always three and out," Nevins said. "From early on, we were trying to keep it open for the possibility of more, but it just became clear that trying to continue the show past the life of Vanessa Ives was going to be a lesserment. And John really was most invested in the life of, in the story of Vanessa Ives, and he didn't really want to continue beyond that character. That character had a three season arc. So when he says it was always three years, I think he always envisioned a three season arc for her and that character. I was trying and we were trying to keep open the possibility of going beyond. But, as we were going into that final season, it became clear that the combination of that character and John as a writer were the heart of the show, so it was sort of seemed like it was going to be foolhardy to continue going."
Showtime tried to suggest other approaches to a fourth season, but ultimately agreed that it was better to end as intended than force it to stretch beyond. "I think that's what had evolved, was the death of Vanessa Ives was plotted," Levine said. "I think in John's mind, he slowly came around to the idea that at first thinking there could be life for the series beyond Vanessa Ives, and then he came around to the idea that for him there wasn't. And so then it became a question for us: Is there a life for the series beyond both Vanessa Ives and John Logan's writing? And for us, we thought the series would just lose its authenticity that way. So it was a moving target, which is why, partly why we chose to end it the way we did."
Nevins and Levine revealed that Showtime knew before the third season aired that it would be the final season of Penny Dreadful, but decided along with Logan to let fans discover that in the season finale.
"Part of not announcing it in advance was John didn't want to cast a pall on the final season," Levine said. "He also didn't want to tip the death of Vanessa Ives. And so I think we all together came to the idea, you know what, this series has made bold moves in all different directions. Let's make the bold move of putting up 'The End' at the end of the final episode and then announcing to the world that it was over."
Penny Dreadful is currently available on Showtime Anytime.