Seth Rogen Prepping New FX Comedy Series About The Singularity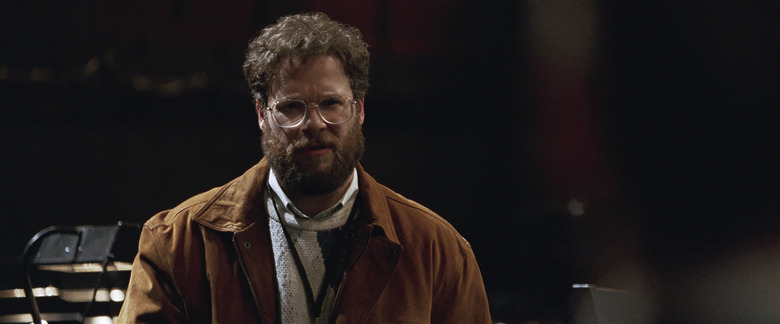 Seth Rogen and Evan Goldberg are gearing up to write and produce a new half-hour comedy television series about the singularity for FX.
Rogen let the news slip while appearing on the Nerdist podcast promoting his latest film Sausage Party. When asked about what he will be working on next, Rogen revealed that he is re-teaming with his producing and writing partner Evan Goldberg for another television series for the Fox-owned cable network FX.
We have a pilot for FX that we're gonna shoot that we're working on right now. We're working on the script right now and we're going to film that in the next year basically.
Rogen was going to say the title of the project but found himself taking another direction. It sounded like the project may be called The Singularity, but I'm not sure. Nerdist podcast host Chris Hardwick asked if the project was announced and Rogen was unsure: "I don't know if it is, I think it is? I don't know if it is... It's about Singularity," revealed Rogen, confirming it's based on the hypothesis pushed by futurist Ray Kurzweil.
The technological singularity is the hypothesis that "the invention of artificial superintelligence will abruptly trigger runaway technological growth, resulting in unfathomable changes to human civilization."
According to this hypothesis, an upgradable intelligent agent (such as a computer running software-based artificial general intelligence) would enter a 'runaway reaction' of self-improvement cycles, with each new and more intelligent generation appearing more and more rapidly, causing an intelligence explosion and resulting in a powerful superintelligence that would, qualitatively, far surpass all human intelligence. Science fiction author Vernor Vinge said ... that this would signal the end of the human era, as the new superintelligence would continue to upgrade itself and would advance technologically at an incomprehensible rate. Futurist Ray Kurzweil predicts the singularity to occur around 2045 whereas Vinge predicts some time before 2030.
As for what the project will be about, Rogen revealed the following:
It's about artificial intelligence, it's a half-hour comedy about the singularity basically. And I won't say anything else because I honestly don't know if it's [been announced].
On the subject of the approaching nano-technology, Rogen commented: "Oh, it happening, it super scary and we're trying to make a comedy about it." No word on if Rogen would be involved as an actor.
This isn't the first time that Rogen and Goldberg have tried to make a television series for FX. In 2013 it was announced that the network had ordered an animated comedy from the duo called Bigfoot, based on Graham Roumieu's faux autobiography books In Me Own Words, Me Write Book, and I Not Dead. American Dad writer and supervising producer Matt McKenna was set to write and executive produce the pilot. We haven't heard any official updates since the news was announced three years ago, but recently I heard it might still be "in the works."
For those of you interested in hearing more about the Singularity, here is a good video explanation: