CBS' 'MacGyver' Reboot: 10 Things We Learned [TCA 2016]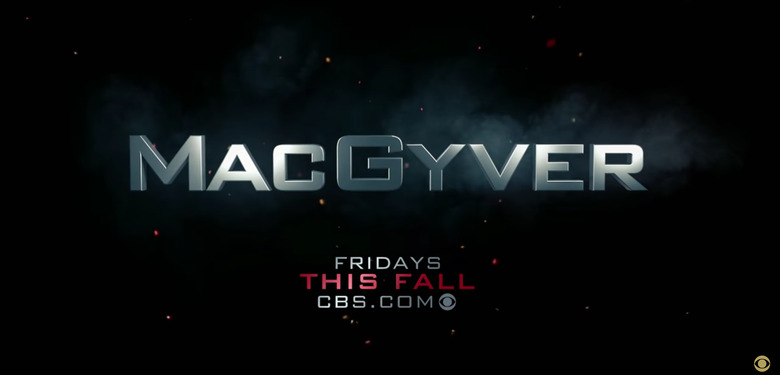 CBS presented a panel for their new MacGyver series premiering this fall. Lucas Till stars as a young Angus MacGyver, the hero who can improvise weapons and tools out of common objected in his environment. James Wan directed the pilot and Peter Lenkov is show runner. We had an interview with Wan and Lenkov which we will bring you in September. For now, here are some things we learned from their panel, including how this MacGyver will differ from the old one and whether Richard Dean Anderson could appear on the show.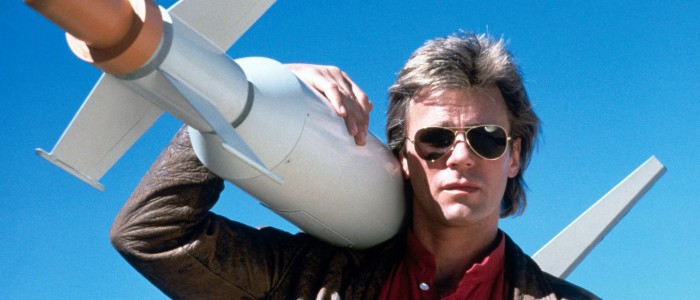 They Have a Role For Richard Dean Anderson
The big question on all the fans' minds is: will the original MacGyver, Richard Dean Anderson, be on the show? Lenkov said yes, assuming Anderson agrees to the part. "Oh yeah," Lenkov said. "We've been talking to his reps about having him. We actually have a role in mind, and we've had this since we started prep on the pilot. So we are hoping he says yes."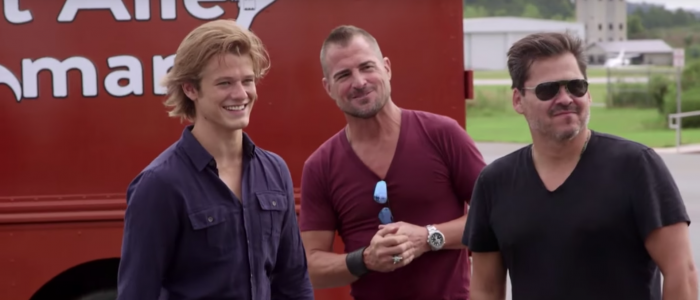 MacGyver Has a Team
MacGyver will always be the center of the action, and he always had help from Jack Dalton and Pete Thornton. This MacGyver has a larger team to rely on, including a gender-flipped Patricia Thornton (Sandrine Holt). George Eads plays Dalton, and the cast includes Justin Hires and Tristin Mays.
"I wanted it to stand out a little bit from the original show," Lenkov said. "I wanted that character to have a family around him, people that he relies on. I feel that TV shows nowadays are very character-driven, so I really wanted to sort of explore his character. And how do you do that? By really having him interact with people close to him. It really came from really, honestly, trying to make this feel a little different from the earlier incarnation, but still stay true to the soul of that show."
They Love MacGruber
Will Forte's MacGruber sketch on Saturday Night Live was a direct parody of MacGyver, only Grubes was not a successful hero and he never stopped the bomb. Forte took it even further in the MacGruber movie. Not only are the cast confident they can still play MacGyver straight, but they quote MacGruber themselves all the time.
"When I found out that he had gotten the job, the first words out of our mouths were 'Every day is a workout when you've got a 20 pound python in your pants,'" Till said.
Eads added, "We try to keep it light and acknowledge that right away because, when I first read the pilot, the first 10 pages, seriously, I was kind of laughing because I was imagining it being MacGruber really, not MacGyver, but I like to laugh. Even when we are rehearsing, sometimes I'll say, 'Do it like MacGruber,' and he'll go into the voice, and we'll do the scene that way just to lighten the mood a little bit."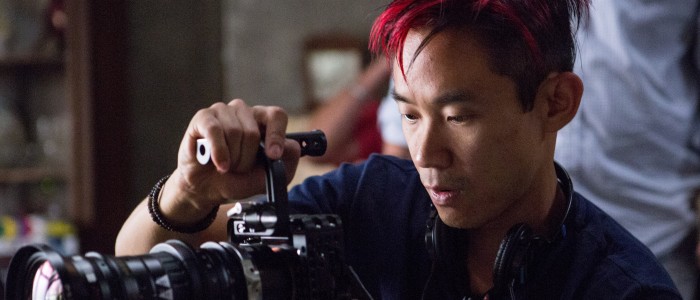 James Wan Cast MacGyver
The new MacGyver went through some retooling. There was a pilot made earlier this year that CBS decided to reshoot. A 90-second trailer came out of the original pilot, but won't be included in the show to air. The biggest achievements of the original pilot were casting Till and Eads.
"I was involved in was the casting process," Wan said. "I was very happy that I was able to be involved in finding Lucas and having George be a part of that as well. They were the only two that basically survived the previous incarnation of MacGyver, and I think Peter saw the same thing as well. We just took that and basically kind of did it again and basically tell the new story that we wanted to tell. I think we're actually better off for it, especially with this version that I actually got to direct. I feel like I got to direct the best version."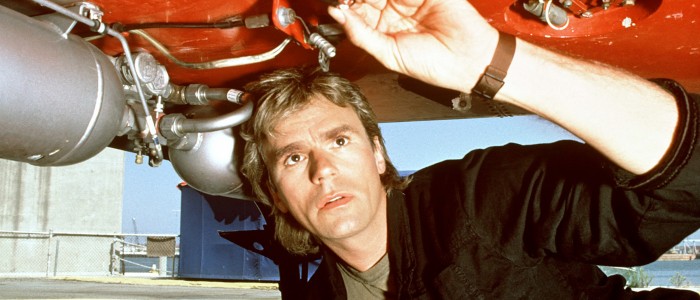 There's a Classic MacGyver Easter Egg in the Pilot
The new MacGyver trailer showed some classic MacGyver imagery, like Lucas Till hoisting a missile over his shoulder. Lenkov promised a big Easter egg for diehard fans in the pilot.
"If you watch the pilot, there is one very specific MacGyverism that we used," Lenkov said. "It's really an Easter egg for people that know that original show. So I think they'll recognize that particular little gag."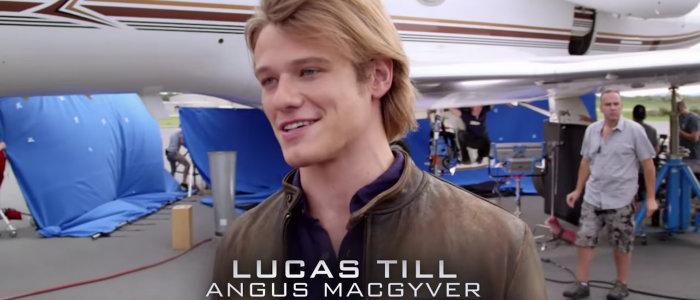 MacGyver's First Name Is No Longer a Secret
MacGyver was always a classic one-named hero, like Seinfeld's Kramer. They only revealed his first name in the series finale, also like Cosmo Kramer. But now that the cat's out of the bag, this MacGyver has the first name from the pilot.
"I say it all the time on the show," Till said. "I think we've got to come up with a way to make me hate it on the show or something. Angus is a pretty crap name.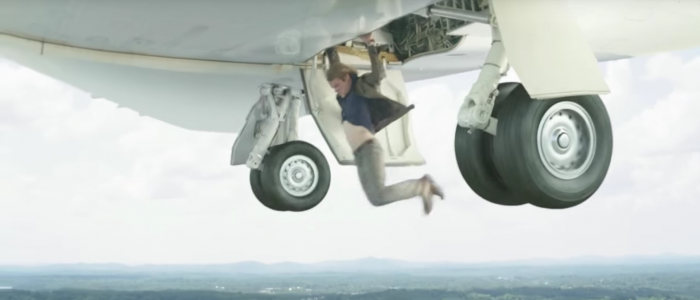 They Do a Lot of Research
To make sure all of MacGyver's creations are plausible, the writers have to do a lot of research every time they come up with a new sequence. They've also hired someone to vet their contraptions.
"A lot of it is research," Lenkov said. "A lot of it is us painting ourself into a corner and then trying to get creative. We also have a tech advisor that we have vet our scripts to make sure that all these things are real and they're doable. That's sort of the fun of writing the show, is painting yourself into a corner and coming up with a creative way to get out of it.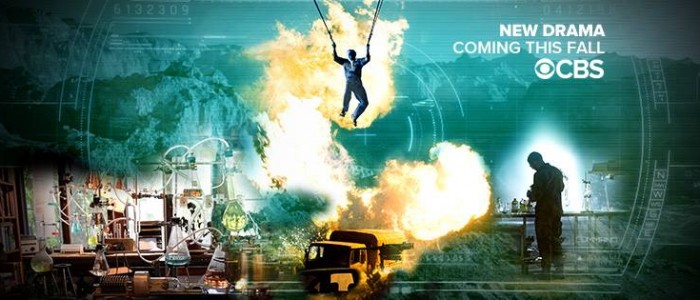 This MacGyver Is Emotional
Most of the discussion on the panel regarded the action and MacGyver's inventions. Lenkov wanted to be sure viewers know the show also has heart.
"I think the thing that you'll see in the pilot is there's a really emotional journey that MacGyver goes on," Leknov said. "He's betrayed by one of the members of his team and somebody he was very fond of. You see him go on this emotional journey of suffering a loss and then a betrayal. It's a storyline that's going to play over the course of the first season of the series. If you sort of dig in and watch the show, you'll see everything is really, really character forward and plot second."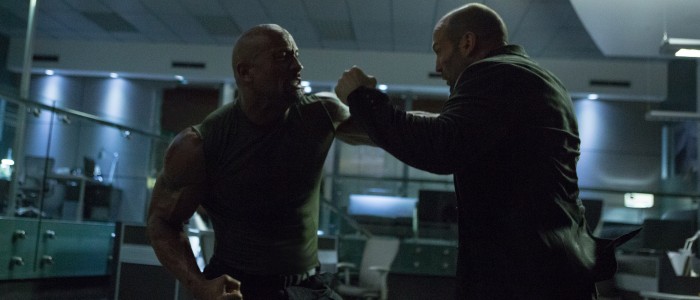 Lucas Till Does His Own Fighting
Till was gung ho to do as much of the action as they would allow him to do, and it turned out to be quite a bit. When it came to fight scenes, Till asked director Wan to let him recreate a moment from Dwanye Johnson and Jason Statham's fight scene in Furious 7.
"I convinced James to let me get Rock Bottomed, not really because that was a different move," Till said. "In his movie, The Rock Rock Bottomed Jason Statham, shoves him into a glass table, and it does this slow, almost twisty cam move into the table. I was like, 'Hey, do you know that brilliant movie you made where you did that one thing, and it's that signature thing that you do? Just let me do it.' They didn't want to. I mean, you've got to protect the guy. Otherwise, everyone loses their jobs if I break an arm or whatever. So you do need to be protected, but at the same time, I love getting in there and doing it because it looks better when you can see the guy doing it. I convinced him of letting this 250-pound man slam me into the ground, and all in one take, he picks me up, chokes me, slams me into the ground. That's just one of many things that we do on MacGyver. He got punched in the mouth the other day."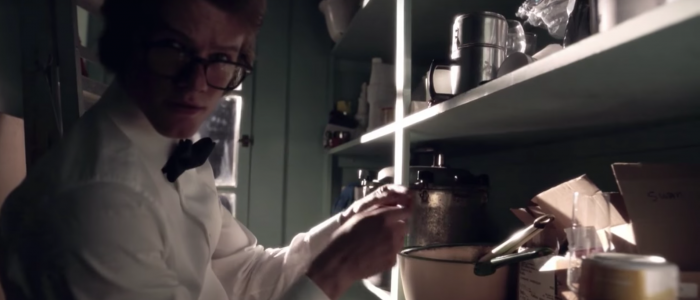 MacGyver Still Doesn't Like Guns
One of the trademarks of MacGyver was he doesn't like guns, so he'd always rather find a solution to a problem that didn't require firearms. This MacGyver stays true to that.
"I think MacGyver is the kind of guy that, if he needs a weapon, he'll build it," Lenkov said. "He's not a gun guy. George's character is very different. George's character is sort of the muscle of the show. He's ex-military. He's the guy that sees the value in a gun as a defensive weapon. But yeah, this is very true to the original concept of the show, which is MacGyver is not a gun guy. MacGyver is a different type of hero."