LOL: 'Moana's Dwayne Johnson And Lin-Manuel Miranda Sing "Gaston" From 'Beauty And The Beast'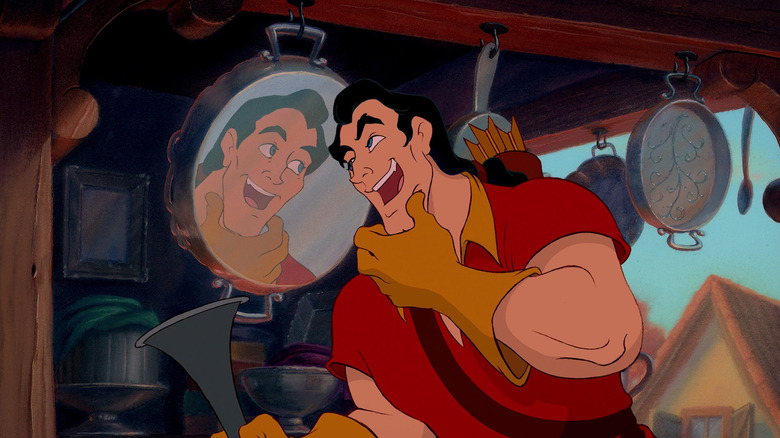 Two of the most beloved men in showbiz, Dwayne "The Rock" Johnson and Hamilton's Lin-Manuel Miranda, are teaming up this fall for what will hopefully be Disney Animation's next smash hit. But before we get to Moana, the pair took a moment to pay homage to an old Disney animated classic. In an incredibly charming video below, you can see the pair doing a duet of "Gaston," from 1991's Beauty and the Beast. You can probably guess which one played Gaston.
Lin-Manuel Miranda, who helped write music for Moana, posted the Dwayne Johnson Gaston video when he temporarily took over Disney Animation's Instagram.
A video posted by Walt Disney Animation Studios (@disneyanimation) on
Liked that? Here it is again from another angle, as shared by Dwayne Johnson on Instagram.
"Oh my God that is the Rock.. GASTON!" ???? For our next act Lin Manuel Miranda and I will tour the globe singing hip hop music in the spirit of show tunes. After working w/ Lin on our movie #MOANA and having the privilege of singing songs he wrote, it's easy to see why the creator of Broadway's Pulitzer Prize winning HAMILTON is a genius. And the best part about it is he's a genuinely great and humble dude. Look forward to working w you again my friend. #LinManuel #TheRock #TheHipHopShowTunesWorldDopenessTour #TheBrownBaldTattooedGaston ????????
A video posted by therock (@therock) on
As a singer, Johnson isn't quite at Miranda's level — which is understandable, seeing as Miranda is a bonafide Broadway star just coming off of the hottest musical in recent memory. But Johnson is good enough, and he's got energy and enthusiasm to spare. Someone should really think about casting this guy in a live-action musical someday. Luke Evans and Josh Gad really have their work cut out for them in next year's live-action Beauty and the Beast if they want to top Johnson and Miranda's excellent performance.
It wasn't all covers of old Disney classics, though. Miranda also shared a snippet of a song from Moana with Johnson and Auli'i Cravalho.
And to close it out, here's a new one from #moana with @auliicravalho & @therock! Thanks for letting me play on the #linstagram! #dreamscometrue
A video posted by Walt Disney Animation Studios (@disneyanimation) on
Moana arrives November 23.
Three thousand years ago, the greatest sailors in the world voyaged across the vast Pacific, discovering the many islands of Oceania. But then, for a millennium, their voyages stopped – and no one knows why. From Walt Disney Animation Studios comes "Moana," a sweeping, CG-animated feature film about an adventurous teenager who sails out on a daring mission to save her people. During her journey, Moana (voice of Auli?i Cravalho) meets the mighty demigod Maui (voice of Dwayne Johnson), who guides her in her quest to become a master wayfinder. Together, they sail across the open ocean on an action-packed voyage, encountering enormous monsters and impossible odds, and along the way, Moana fulfills the ancient quest of her ancestors and discovers the one thing she's always sought: her own identity. Directed by the renowned filmmaking team of Ron Clements and John Musker ("The Little Mermaid," "Aladdin," "The Princess & the Frog") and produced by Osnat Shurer ("Lifted," "One Man Band").