'The Flash' / 'Supergirl' Musical Crossover Episode Of Your Dreams Is Coming To The CW [TCA 2016]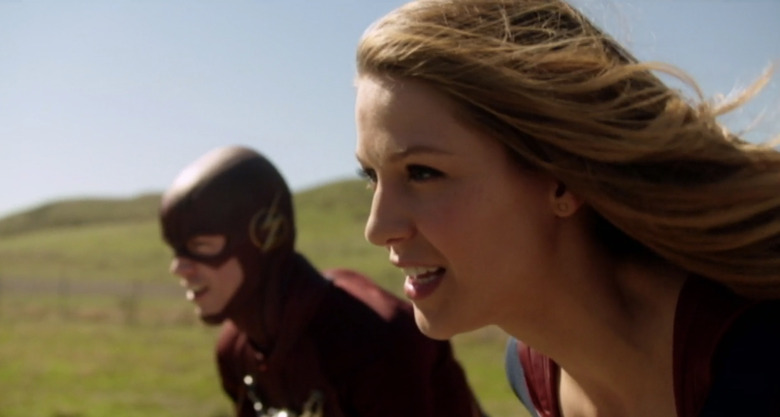 Among the many big announcements at The CW TCA panel, today was a Flash/Supergirl crossover will be a musical featuring former Glee co-stars Melissa Benoist and Grant Gustin. Find out more about the Flash Supergirl musical crossover episode, after the jump.
"Yes, there will be a musical crossover," Berlanti said. "There's going to be a musical pair of episodes in the back half of the year between Supergirl and Flash. We have a number of people who can sing from all shows making appearances."
As with Glee, the majority of songs will be covers, but Berlanti does not rule out one or two originals.
"I think they're going to be mostly pre-existing songs," Berlanti said. "We have been talking about trying to write at least one original song per episode, and certainly happy to take requests throughout the year. Tweet @GBerlanti."
Berlanti added that they will be careful about how they introduce music into the universes of the shows.
"We've toyed with who potentially the villain could be," Berlanti said. "My sense is we'll be very careful about how it is they'll break into song. There'll probably be an element of being inside a character's head sometimes. It's many episodes away but we are going to start combing through the music and talking about the possibilities. Victor [Garber] was pitching me some songs the other night at dinner. Danielle Panabaker said, 'I don't want to sing.'"
While The CW has not confirmed which Arrowverse stars will appear in the episode, they already have lots of talent on their roster. Other actors with proven musical chops include The Flash's Jesse L. Martin, Supergirl's Jeremy Jordan, and Legends of Tomorrow's John Barrowman.
Berlanti suggested the musical could be around episodes 13 or 14 of both shows, and that the musical would touch Supergirl but primarily be in The Flash.