'Stranger Things' Soundtrack Release Date Announced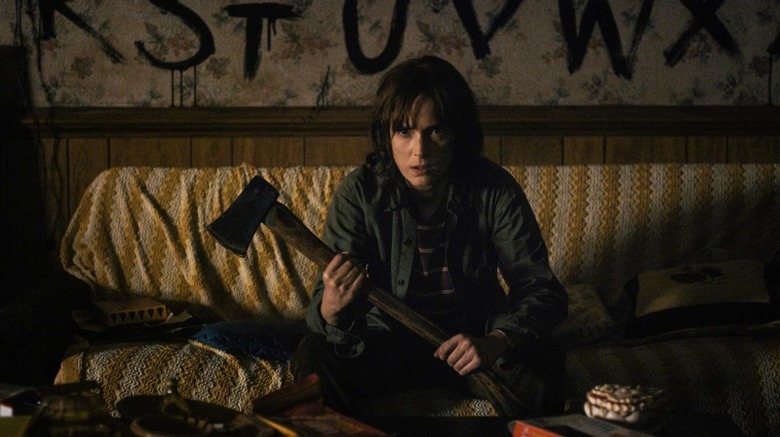 Stranger Things features Kyle Dixon and Michael Stein's first score. The members of the Austin-based band S U R V I V E had a few of their songs in Adam Wingard's The Guest, but the Duffer Brothers' hit Netflix series is their first official credit as composers. Fans of the sci-fi show have responded enthusiastically to their synth-heavy score, wondering if or when it might get released. The Stranger Things soundtrack release date has been set, and volume one of the soundtrack comes out this Friday.
Below, learn more about the release of Kyle Dixon and Michael Stein's Stranger Things score.
The Stranger Things soundtrack is being split into two volumes. Volume one is available to purchase digitally this Friday, August 12th, and volume two will be released digitally a week later. On September 19th, volume one will come out on CD. Again, volume two will be made available the following week.
In a statement, Kyle Dixon had this to say about the release and their involvement in Stranger Things:  
The directors were previously fans of S U R V I V E. They used a song from our first LP in a trailer they made to pitch their concept to Netflix. Once the show was picked up, they reached out to see if we were available to score the show." Michael Stein said, "We discussed having a classic tone and feel to the music for the show but being reserved enough that it wasn't '80s cheese, while offering a refreshing quality so that felt modern. This was one of the qualities that drew them to our music in the first place. Having a familiarity with classic synths worked, but with an overall forward thinking approach.
Here are the official track titles for Stranger Things, Vol 1 soundtrack:
1. Stranger Things
2. Kids
3. Nancy and Barb
4. This Isn't You
5. Lay-Z-Boy
6. Friendship
7. Eleven
8. A Kiss
9. Castle Beyers
10. Hawkins
11. The Upside Down
12. After Sarah
13. One Blink For Yes
14. Photos in the Woods
15. Fresh Blood
16. Lamps
17. Hallucinations
18. Hanging Lights
19. Biking to School
20. Are You Sure?
21. Agents
22. Papa
23. Cops Are Good at Finding
24. No Weapons
25. Walking Through the Nether
26. She'll Kill You
27. Run Away
28. No Autopsy
29. Dispatch
30. Joyce and Lonnie Fighting
31. Lights Out
32. Hazmat Suits
33. Theoretically
34. You Can Talk to Me
35. What Else Is There to Do?
36. Hawkins Lab
In an interview with Indiewire, Dixon and Stein said the theme song for Stranger Things – which nicely sets the tone for the show  – was one of the demos they sent to the Duffer Brothers and the producers during their pitch. That demo is a "loose" version of the song we now hear in the opening credits, but the Duffer Brothers asked if they could develop the song. The composers called this the "starting point" for their work on the show. Stranger Things will return for a season two, with the same talent and characters involved, but it's unconfirmed if Dixon and Stein will come back to score the next season.