Antoine Fuqua In Talks For 'Scarface' Remake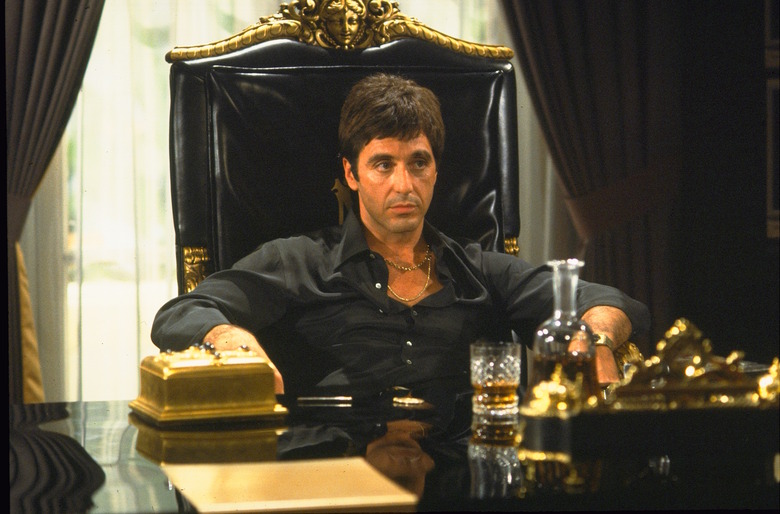 Fresh off of one high-profile remake, Antoine Fuqua is already circling another. The Magnificent Seven director is reportedly in talks to direct a remake of Scarface. Like the 1960 Like the 1960 Magnificent Seven, the 1983 Scarface — the one everyone knows with Al Pacino — is itself a remake. The original original Scarface was a 1932 drama from Howard Hawks and Howard Hughes, and that, in turn, was an adaptation of a 1929 novel. 
Deadline broke news of the Antoine Fuqua Scarface remake. Like the other Scarfaces, this one will center on an immigrant who arrives in the U.S. and claws his way to the top of the criminal underworld. In the 1932 film, it was an Italian immigrant, played by Paul Muni, in Chicago. In the 1983 one directed by Brian De Palma, it was a Cuban refugee, played by Al Pacino, in Miami. The latest iteration will move the action to present-day Los Angeles.
We've been tracking Universal's planned Scarface remake for a few years now. The most recent draft of the script comes from Jonathan Herman (Straight Outta Compton). Paul Attanasio (Donnie Brasco) and David Ayer (Suicide Squad) also previously contributed to the script. David Yates (Fantastic Beasts and Where to Find Them) and Pablo Larraín (No) have flirted with the directing job at various points.
Fuqua seems like a natural fit for the Scarface remake, as his resume features several crime dramas including The Equalizer, Brooklyn's Finest, and Training Day. And as The Magnificent Seven shows, he clearly isn't afraid of remaking classics and potentially attracting the ire of cinephiles. Then again, Fuqua is the kind of in-demand filmmaker who gets linked to lots of projects that never actually happen, and he's got several projects on his to-do list already including a small-screen adaptation of Mario Puzo's Omertá with Sylvester Stallone.
The new Scarface remake will be produced by Mark Shmuger, Scott Stuber, and Dylan Clark, along with Marty Bergman, who produced the 1983 Scarface. There's no word yet on when it'll hit theaters, but it's described as a "priority" for Universal, so look for more news to come out of this one sooner rather than later.