Exclusive: Amazon's 'Jack Ryan' TV Series Began As Another 'Clear And Present Danger' Adaptation [TCA 2016]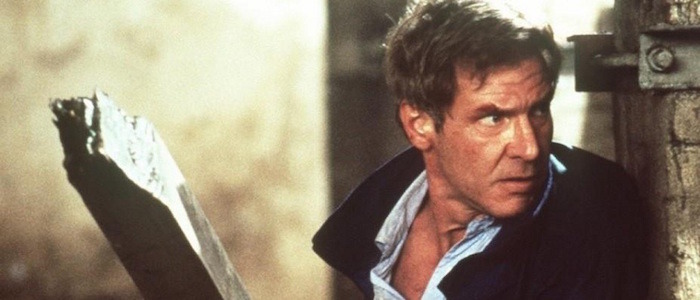 Carlton Cuse was on a Television Critics Association panel for his FX series The Strain and we had an interview with Cuse and The Strain author and executive producer Chuck Hogan. During the interview, we asked Cuse about his Jack Ryan TV series for Amazon, which would star John Krasinski as the CIA analyst of Tom Clancy's novels. Cuse revealed that the show began as a straight adaptation of Clear and Present Danger.
"We started working on an adaptation on Clear and Present Danger and then decided it just felt dated," Cuse said. "It really led to this revelation that the thing that defined Tom Clancy was that his thrillers were very much geopolitical thrillers of the moment. They really tapped into something that was going on in the world, so we're doing an ISIS/ISIL type story. It feels very much connected to what's happening in the world right now." 
Clear and Present Danger was previously adapted into a 1994 movie starring Harrison Ford in his second portrayal of the character after Patriot Games. Last year, Jack Ryan: Shadow Recruit tried and failed to reboot the film franchise with Chris Pine in the lead. Cuse acknowledged that Clancy's books now read as period pieces of the political climate in which they were written.
"When you start adapting them, you realize it just didn't feel contemporary as when we started working on it," Cuse said. "So we're keeping the characters and the same general sense of all those things that made Clancy Clancy, but telling a wholly original story."
Though Amazon has not officially ordered the Jack Ryan series, the detail of Clancy's books would lend themselves well to long-form television. "I think the great opportunity that exists for Jack Ryan is that the Clancy books were these huge sprawling epics," Cuse said. "They're 600, 700, 800 pages long. It's really almost impossible to take a book that length and reduce it to a two-hour movie, but across a ten-hour show on Amazon, you can tell a sprawling mosaic story and add in color and depth at a level that you just can't do in a theatrical motion picture."
Should the Amazon series go, Cuse could also expand beyond the rigid one-hour format, as streaming episodes frequently run long. "Again, it's streaming so there aren't tight parameters about episode run times," Cuse said.
Cuse's other movie adaptation series, the Psycho prequel Bates Motel, is entering its final season. Rihanna has been cast as Marion Crane, the Janet Leigh character from Psycho. Cuse would not reveal how much of the final season Crane would appear in.
"Not something that we're going to disclose right now, but she is in multiple episodes," Cuse said.
Should there be a shower scene, how could Bates Motel's version differ from one of the most famous movie scenes of all time? Cuse had the best possible answer. "Well, certainly shower technology has improved since 1960," Cuse deadpanned. "So just even on that basis alone, it'll be a much nicer shower."
The Strain returns August 28 and we'll bring you the complete interview with Cuse and Hogan close to the season premiere.