Exclusive: 'Black Panther' Screenwriter On Wakanda's Rise Within The Marvel Universe [TCA 2016]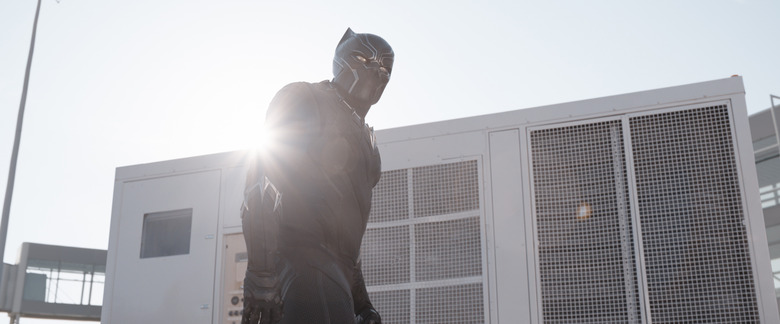 Joe Robert Cole was a writer on the FX miniseries The People Vs. O.J. Simpson: American Crime Story. He's currently writing the Black Panther standalone film with director Ryan Coogler, and we recently had a chance to speak with Cole about the movie at cocktail party for FX.
Black Panther lead T'Challa (Chadwick Boseman) first appeared in the film Captain America: Civil War as the heir to the Wakandan throne after his father was assassinated. Cole explained when the Black Panther movie picks up, where it goes after that, and how they're developing the MCU version of Wakanda.
"First, I think Chadwick did a phenomenal job in Civil War in setting the tone for him being a king, for the nobility," Cole said. "At the end, I thought his turn was fantastic and how he rose above his own vengeance. I think that was a great introduction to him. Our standalone movie will begin shortly after Civil War ends. So we'll be able to see him mourning and him starting to take command as king of his own nation. Lots of things are going to occur within regards to that. The country will be under threat from inside and out so we'll learn what Wakanda is, that nation, as the most technologically advanced nation on the planet. Also, as Wakanda's rise to prominence happens, it will affect the MCU moving forward which is really exciting."
Cole worked in Marvel's writer program prior to The People Vs. O.J. Simpson, the same program where Nicole Perlman wrote the first script to Guardians of the Galaxy. In his return to Marvel, Cole hopes to infuse Black Panther with a bit of real African culture and history, even though Wakanda is a fictional country on the continent.
"Africa is such a huge nation," Cole said. "There are so many countries, each of them with different histories, mythologies, and cultures but what we tried to do was hone in on some of the history, some of the cultural influences and then extrapolate out in our technology, extrapolate out in how we see Wakanda and the different parts of the country and the culture of the country as well. So we wanted to root it in reality first and then build out from there, so we'd feel pretty authentic and grounded."
According to IMDb, Cole was also attached to write The Inhumans, but now that the film has been bumped from the Marvel release calendar, Cole does not know the status of that project. "I don't know if Inhumans is on the slate," he said. "For some reason, everyone thinks that I'm writing or have written Inhumans. There is not an Inhumans script yet so I'm not sure how that will be moving forward."
We'll have the complete interview with Cole on The People Vs. O.J. Simpson and Black Panther here on /Film. Black Panther is set for release February 16, 2018.