How Fox's 'Rocky Horror Picture Show' Will Be Different From The 1975 Movie [TCA 2016]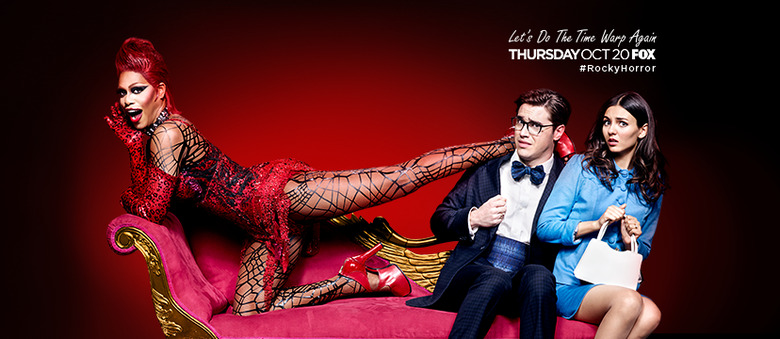 Fox presented a panel on The Rocky Horror Picture Show for the Television Critics Association. While not a live musical like their Grease Live!, the televised feature adds a new layer. Since its 1975 release, The Rocky Horror Picture Show has played midnight screenings with audience participation. The Fox version incorporates an audience watching the performance and performing along themselves. 
"When we first embarked on developing this re-imagining, the very first thing laid out was we wanted to celebrate the fans with this new departure," said executive producer, director, and choreographer Kenny Ortega. "We wanted to bring in a cast that didn't have to fill in anyone's shoes. The celebration of the fandom, the 40 years, the midnight screenings, the adoration, it was really important we had that aspect as a character to the piece. We invited Sal Piro to join us, President Emeritus of Rocky Horror Picture Show Fan Club worldwide. Tim Curry of course joined us right from the start and opened up a dialogue. When we filled the theater with fans, we tried many things. What we wanted to make sure was the callbacks didn't get in the way of telling the story, but celebrated the way of telling a story. It was trial and error. We found a way to balance the callbacks into the arc of our full story."
While scripts for audience participation have circulated among fan groups, there has never been an official audience participation script authorized by 20th Century Fox, the producers of the film. Lou Adler, who produced the original stage show and movie and now is an executive producer on the Fox version, said the 2016 incarnation still allowed for spontaneity among the audience.
"The callbacks are natural," Adler said. "You can't write them. As in the first one, it's a space that was not left for a callback. Something in the dialogue or the visual just prompted the audience to either put on a hat when someone on the screen put on a hat, or make a comment. It's just a natural sort of thing. You don't write them, as we never did for the original."
The music gets a modern twist too, though you'll always recognize "Science Fiction Double Feature," "Time Warp" or "Hot Patootie."
"My son Cisco Adler produced the soundtrack," Adler said. "What Kenny and I said was, 'Be true to the original but make it contemporary.' There's loops and samples but it's still the original music."
Curry sat on the panel in his wheelchair and spoke about his return to the world of Rocky Horror, how he wanted to participate and how that evolved.
"It was fun to do it again," Curry said. "I actually offered myself as Dr. Scott because I was already in a wheelchair. They thought the narrator was a better fit and I enjoyed it a lot."
The cast and producers were all very clear that they were not remaking Rocky Horror. They only intend to celebrate it all over again.
"I don't believe we are remaking anything," said Ben Vereen, who plays Dr. Everett Scott. "I believe we are paying tribute to the great artists who did it before and paying homage to them for allowing us the opportunity to express ourselves through the character. You cannot remake The Rocky Horror Show. It is an iconic piece, but you can pay tribute and honor to it."
Ortega said, "I think it's giving an incredible cast, all who are triple threats, an opportunity to invade these wonderful characters and bring them to life with a new vivacity and imagination. I fell in love with this project in 1973 when I saw Tim do it. I saw him over and over at the Roxy in Los Angeles. It's like going back to Paris after 40 years. I love rock 'n' roll, I love this story, I love this music. It was an opportunity to jump into the bath with fantastic people and have a way at it, and bring it to life again. I'm not going to do anything else for a while after this experience."
The Rocky Horror Picture Show airs this October on Fox.